Saturday, January 14th, 2017. 5:00PM EST
Presented by Dr. Reid Hester
SMART Recovery will host Reid K. Hester, Ph.D., for an overview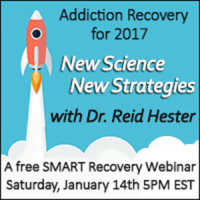 and discussion of recent scientific findings on addiction treatment and support. There are valuable lessons to be learned and new strategies resulting from research that have real implications for people struggling with their use of alcohol, drugs and behaviors.
The event will be enjoyed by individuals struggling with addictive behaviors, as well as the professionals and families who want to help a loved one.
Dr. Hester is the Director of Research at Checkup & Choices and creator of SMART's CheckUp & Choices companion web course (formerly called Overcoming Addictions). His professional career has included clinical work, program consultation, research, and training in empirically supported approaches to substance abuse treatment.
Currently, Dr. Hester is directing an implementation research grant to understand how digital interventions like the web course for SMART Recovery, are integrated within the workflow of treatment programs. It is a two-year project funded by the National Institute on Alcohol Abuse and Alcoholism (NIAAA).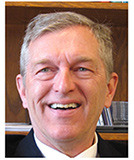 Dr. Hester has been the senior editor of three books and over 60 other publications in the area of substance abuse prevention and treatment. He was a recipient of two Tibbets awards for excellence in Small Business Innovative Research (SBIR) in 1997 and 2006. He has been a technical adviser and consultant to the World Health Organization (WHO), the NIAAA, and the National Institute on Drug Abuse (NIDA).
Please join us! Start your New Year out right and kick-start your own recovery with this FREE webinar — as always, open to SMART participants, friends, family members, professionals, and the general public. Register Today