SMART Recovery meetings for addictive and problem behaviors
Join a SMART Recovery meeting to get support for addiction to all types of problematic behaviors including drugs, alcohol, gambling, cigarettes, food, and more. SMART Recovery meetings are free and are guided by trained facilitators.
Find a SMART Meeting
What to expect at a SMART Recovery meeting
Most SMART meetings last around 90 minutes, with roughly the same format:
Check-in (how has your previous week been?)
Discussion and/or working a SMART Recovery tool
Creating a safe and non-judgemental space for everyone
Our meetings follow a number of guiding principles to get the best out of the time for everyone:
Respect
Inclusivity
Confidentiality
Non judgmental

Avoid 'war stories,' or glorifying past behaviors with details that could trigger others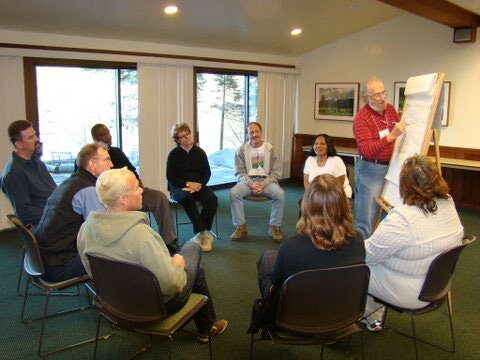 Ready to start your journey?
Find a SMART Recovery meeting online or in-person near you.
Find a SMART Meeting
What SMART Recovery participants say
"I was tired of being told I was powerless. I'm not. I can make better choices now. SMART Recovery helped me develop a plan to get where I needed to get."

"I thought nothing would work for me. SMART Recovery showed me how my own THOUGHTS were my biggest problem! The SMART Handbook exercises really helped me break it all down and look at my challenges from a more positive perspective. "
Frequently asked questions
Do I have to appear on camera?

For almost all meetings you do not have to appear on camera. Check the Notes field in the meeting finder or contact the meeting facilitator before the meeting if you wish to confirm.
Can I attend for any addiction?

Yes. Our meetings focus on the addictive behaviors, not the substance – meaning they are suitable for any problematic or addictive behavior – including but not limited to alcohol, drugs, gambling, tobacco, as well as eating disorders.
What happens in a meeting?

Meetings typically last 90 minutes (the meeting search will indicate exactly how long each meeting is scheduled to run for) and there are no breaks. It is a peer support group where people are there to help themselves and help each other. People report back on how their last week has been, discuss the agenda item they have put forward and what their plans are for the coming week. The SMART Recovery tools are discussed and used during the meeting.


Do I have to pay?

No. Our meetings are completely free. As SMART Recovery is a non-profit organization we do greatly appreciate donations, including those to support individual meetings. Look for the "Support this Meeting" button in the meeting finder.
Are the meetings available on mobile?

Yes! Download the SMART Recovery app to search for and join meetings from your favorite device. Most online meetings use Zoom, while some use Microsoft Teams or similar services. To join online meetings you'll want to have those apps downloaded on your device.
Can I get meeting attendance verification?
Can treatment professionals and students sit in on meetings as observers?

Often yes, but treatment professionals and students are asked to please email the meeting facilitator to seek permission before sitting in on a meeting as an observer.