Dr. Robert Meyers, and Dr. Jeffrey Foote discuss the "CRAFT approach"
Hosted by Dr. Tom Horvath, President, SMART Recovery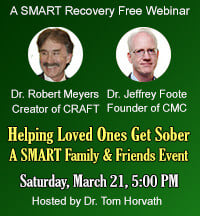 SMART Recovery announces a new Webinar on how the Family & Friends of those with addiction can help those they love, while remaining sane and safe.
The foremost experts in this field today, Robert J. Meyers, Ph.D., creator of CRAFT and Jeffrey Foote, Ph.D., Director, Center for Motivation & Change will join Tom Horvath, Ph.D., President of SMART Recovery to discuss "The CRAFT approach: How science, combined with compassion, can make a difference".
As family members or friends, our intimate connection should make us natural allies. However, we often don't know how to talk with each other or work together when it comes to the emotionally intense issue of addiction.
SMART believes that Family & Friends deserve high-quality, compassionate and optimistic support of their own. We know it is possible to get sober. We believe families are not powerless, that they can help, without becoming codependent, resorting to tough love or enabling. The tools of SMART and CRAFT work beautifully to encourage healthy, productive efforts towards an improved quality of life for all. SMART has been working to create a rich Family & Friends program that includes a vibrant online community, its own Handbook, and both online and face-to-face meetings. We invite you to learn more at
Meet the Presenters:

Dr. Robert Meyers has pioneered the study of how families can help support those with addiction and developed CRAFT – Community Reinforcement and Family Training, a scientifically validated and widely acclaimed approach. He is an internationally renowned speaker and gives CRAFT training workshops all over the world. He has been in the field of addiction treatment for 38 years. He was on the faculty at the University of New Mexico and is currently director of Robert J. Meyers, Ph.D., & Associates. Dr. Meyers' book best selling book Get Your Loved One Sober, Alternatives to Nagging, Pleading and Threatening introduced CRAFT and was the first guide for families looking for an effective alternative to tough love and traditional interventions.

Dr. Jeffrey Foote has over 25 years of extensive, well-recognized clinical research and experience in the field of addiction treatment. He is an expert in motivating clients for treatment. He is Founder and Director, along with Carrie Wilkens, Ph.D., of the Center for Motivation and Change (CMC), which specializes in addiction recovery for individuals and their families. He co-authored Beyond Addiction, How Science and Kindness Help People Change a highly regarded second guide for families who have a loved one who is challenged by substance use problems.





Dr. Tom Horvath has been President of SMART Recovery for 18 of its 20 years. His addiction treatment practice, Practical Recovery, just celebrated its 30th anniversary.






SMART Recovery Special Event Webinars and podcasts are free to all who have interest in the topics of addiction and recovery.


---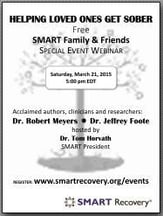 Download the Flyer