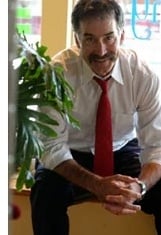 Dr. Robert J. Meyers, creator of the Community Reinforcement and Family Training (CRAFT) treatment approach, long-term practitioner in the field of addiction recovery, and co-author of the book Get Your Loved One Sober: Alternatives to Nagging, Pleading and Threatening, will be a special Guest Speaker at the Monday, April 18th SMART Recovery online meeting for Family & Friends, 9:00pm-10:30pm est. Dr. Meyers will address topics related to CRAFT, as well as answer questions from the meeting participants.
Update: You can listen to the podcast of this event.
The SMART Recovery® Family & Friends meeting is designed for individuals who have a loved one with an addiction and offers a unique blend of weekly discussions in an interactive environment. The meetings use topics from Dr. Meyers' book, CRAFT concepts, and SMART Recovery tools to assist Family & Friends. Our members frequently express enthusiasm and describe tangible results from using this approach.
From our message boards:

"So last night after a couple of hours (to let him sober up) we had a good talk. OMG CRAFT methods work!!! I am doing much better in how I approach these conversations, and can see that he is starting to get a glimmer of understanding that I'm coming from a place of love and not attacking him."
We at SMART are very excited to have Dr. Meyers join us. SMART feels strongly that this is a groundbreaking approach to addiction and is delighted to be able to offer this much-needed support based on scientific evidence to those whose loved ones are suffering. It also dovetails quite beautifully with SMART's REBT underpinnings and is filled with practical advice for family interactions.
Member feedback:

"I came to SMART to get help dealing with my partner's addiction. What I got are tools that help me deal more effectively with almost every aspect of MY life. And the online SMART community is a wonderful place to make friends and get support."
The meeting with Special Guest Dr. Robert Meyers will take place in the SMART Recovery Voice Meeting Room from 9:00pm – 10:30 pm Eastern Time on April 18th.
To access the meeting room: Visit the SMART Recovery website and select "Online Activities/Register SMART OnLine" – in advance. Once registered, access the SMART Message Board (you can also access the message boards through the main site menus). When logged in, select "SMART Recovery Chat and Meeting Rooms" – the blue drop-down bar near the top left of the page. From there, select The Voice Meeting Room. (Note: microphone is not required to participate in this meeting — you can listen and type comments and questions as well.)
We hope you will join us for this very special meeting as well as our regularly scheduled meetings! All are welcome.