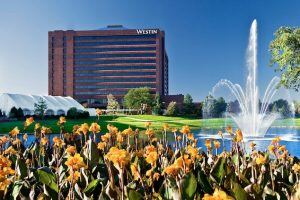 We are pleased to announce that you can now register for the 2019 SMART Recovery National Conference! This year's conference will be held in Itasca, Illinois, a suburb of Chicago, at the Westin Chicago Northwest from September 20–22. The theme is "Celebrating Our Past, Present & Future," with an emphasis on celebrating the organization's 25th anniversary year and our history of helping countless people break free from addiction, all those who have been instrumental to our success along the way, and ways we see SMART growing in the future.
Visit our conference website for more details and to register.
---
Conference Agenda
This year's agenda provides networking opportunities, as well as a variety of speakers, informational breakout sessions, engaging films, meeting demonstrations, and other activities geared at educating and informing individuals so that they may return to their respective communities with tools to fight the addiction epidemic which cripples our nation.
Visit our conference website to view our full agenda and read about our speakers.
---
Informational Breakout Sessions
Saturday sessions provide guests with the ability to focus on an area of SMART Recovery that fits professional or personal interests, including the evidence behind medical marijuana, advanced tools for facilitators, updates in and ways to supplement SMART's Courts & Corrections efforts, helpful tips for facilitators of SMART Family & Friends meetings, and a SMART Recovery meeting demonstration.View our agenda for more details.
---
Special Celebrations & Recognition
Throughout the conference, including a special dinner and awards presentation Saturday night, SMART will celebrate the organization's 25thanniversary year and recognize individuals who have made significant contributions to SMART Recovery and/or the addiction field.
---
Want to be a part of our Silver Anniversary?
We still have openings for additional sponsors and advertisements in our program. All sponsorship packages include your company's logo featured on website, event signage, and printed materials, as well as conference admission ticket. Please see package listing for ticket quantities.
Learn more about being a part of our 25thAnniversary conference.
---
We hope to see you at this year's conference! If you have any questions, please contact us at conference@smartrecovery.org.