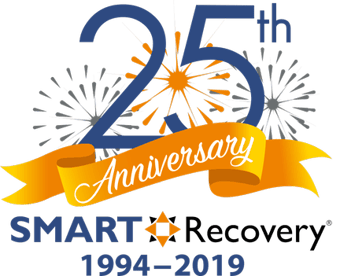 We are pleased to announce that SMART Recovery is celebrating its 25th Anniversary this year!
SMART Recovery started in 1994 by Joe Gerstein, Tom Horvath, and many other professionals who created and refined a self-empowering pathway to support recovery informed by the cognitive and motivational therapies that work best in treatment.
From that point, we have grown into an organization offering more than 3,000 self-empowering, science-based meetings in 23 countries around the world each week, as well as daily online meetings, and 24/7/365 internet message board forums and chat rooms.
This silver anniversary year will be filled with celebrations, culminating at our National Conference September 20–22 in Chicago. This year also brings a renewed and dedicated focus on dramatically growing our organization and its impact on the millions of people around the world who need access to our resources.
Please continue reading for information on some of the celebratory activities and initiatives currently underway, including our:
2019 SMART Recovery National Conference
25 in 25 Volunteer Recognition Program
Campaign to Launch 2,000 More Meetings
We thank you for being a part of the SMART Recovery community, and welcome your ongoing participation in helping SMART Recovery continue to expand in the future!
---
The 2019 SMART Recovery National Conference
Please join us for a very special celebration of our 25th Anniversary, scheduled for September 20–22nd, 2019. In support of National Recovery Awareness Month, the 2019 SMART Recovery National Conference will be held September 20–22 at The Westin Chicago Northwest Hotel in Itasca, Illinois (a suburb of Chicago and close to O' Hare Airport). Hotel room and conference facilities are located on the same premises.
With an estimated 250 participants, the conference will include presentations of relevant topics by guest speakers, provide opportunities for networking with treatment professionals and SMART facilitators across the U.S. and Canada, along with many healthcare professionals, volunteers, participants, and friends of the SMART community.
More details will be released as we have them. Click here to learn more about our upcoming conference.
————————————
Special Thanks to Our 2019 Silver Anniversary National Conference Supporters
---
SMART Recovery 25 in 25 – Volunteer Recognition Program
SMART Recovery is made up of an extraordinary community of volunteers who have built a worldwide organization devoted to supporting individuals recovering from addiction and their family members and friends. These volunteers include addiction scientists and treatment professionals who designed our self-empowering 4-Point Program® and joined people with the experience of recovery and trained them to lead mutual support group meetings.
The SMART community is the world's only network of mutual support groups based on a partnership of professionals and peers. We want to recognize some of the people who have contributed to our success.
Throughout SMART's 25th Silver Anniversary year – culminating in our National Conference September 20–22 in Chicago and beyond – we will honor volunteers representing many types of individual service.
Click here to read more about this program and to see some of the individuals who have already been recognized.
Do you know of someone deserving? Click here to nominate them for this award.
---
SMART Recovery Announces Campaign to Launch 2,000 More Meetings
This year SMART Recovery USA is launching a campaign to introduce 2,000 meetings over the next two-to-three years, essentially doubling our size. We will target areas with the greatest need.
Please click here to read about some of the ways we intend to grow SMART.
To support these and other initiatives, we will seek funding to increase our staff with professionals in meeting support, training, operations, marketing and communications, and IT management. As our U.S. meeting numbers have increased six-fold this decade, our staff has barely grown, and we need major IT upgrades.
We will seek funding from all sources who want to support solutions to the addiction epidemic, including government agencies at all levels, foundations, businesses and individuals. The Board will be undertaking aggressive fundraising efforts, and we invite others to join us.
This is an excerpt taken from Board President Bill Greer's February 2019 presidential address: Celebrating Our Silver Anniversary, SMART Launches Campaign to Help End the Addiction Epidemic.
---
More to Come!
More announcements will be coming about our 25th Anniversary celebrations. Please stay tuned!
To stay up-to-date on all of the 25th Anniversary celebrations, please be sure to subscribe to our monthly e-newsletter or subscribe to our weekly blog digest using the form below.