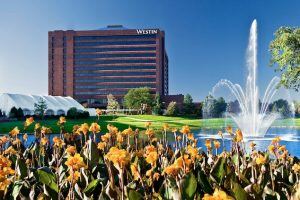 SMART Recovery has secured a group rate of $109 per night at The Westin Chicago Northwest for our upcoming 2019 SMART Recovery National Conference happening September 20–22 in Itasca, Illinois (a suburb of Chicago and close to the O'Hare Airport). Based on availability, this rate may be available three days before and after the conference (September 17–24). In order to take advantage of this rate, please reserve your room before Thursday, August 29, 2019.
We offer two convenient methods for reserving your room:
1) Online
NOTE: Please disregard the pop-up boxes for additional room fees or credit offers affecting your total cost as long as you've chosen the SMART Recovery rate of $109.
2) Over the Phone
Call 888-627-8510 or 630-773-4000 to reserve your room.
---
About the Conference
The 2019 SMART Recovery National Conference – Celebrating our Past, Present & Future – is scheduled for September 20–22nd, 2019 in Itasca, Illinois (a suburb of Chicago and close to O' Hare Airport). Click here for more conference details.
---
About SMART Recovery
Founded in 1994, SMART (Self-Management and Recovery Training) uses science-based techniques that have proven to be effective in helping people recover from addiction problems involving any substance or behavior, including such things as alcohol, drugs, gambling, over-eating, shopping and internet use.
Each week, many thousands of people discuss recovery progress and challenges at more than 3,000 in-person meetings each week in 23 countries, daily online meetings and 24/7/365 internet message board forums and chat rooms.
Participants use SMART to assume responsibility for their own recovery and become empowered using its 4-Point Program®: building motivation; coping with urges; managing thoughts, feelings and behaviors; and living a balanced life.
For more information, please visit www.smartrecovery.org.