Guest blog by Kevin Minnick, MS LMHC LCAC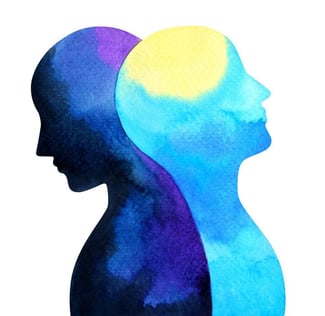 Many times over the last bunch of years, I've run into someone who is making a recovery attempt and has a "diagnosis" of a mental health issue. Knowing full well that something like that would complicate treatment, I'll inquire: "So tell me, what were you diagnosed with? And when was that?" To which the response goes something like this: "Well I was diagnosed with Bipolar when I was 15." And the person is 30 years old now. Wait, what?
It goes without saying that any diagnosis carries stigma with it, whether it's heart disease, diabetes, or any other situation that humanity will encounter. But a mental health and/or substance use disorder diagnosis is particularly difficult to shake because a diagnosis can become a label for the rest of someone's life. So what's someone to do when it comes to recovery?
Let's deal with a couple scenarios that tend to repeat themselves over and over.
Remember my first person who was diagnosed in their teens and have carried the diagnosis with them since then? If you find yourself in this situation, then first and foremost, it might be a great idea to have an updated evaluation completed. The problem with having a diagnosis so early in life is this: as you grow, things will change. Mental and emotional issues are sometimes transient for young teens growing into adulthood. While you may present with a set of features that certainly look like diagnosis A when you're 15, by the time you're 21 everything looks different. And very often, whatever was there before isn't there anymore. What's this mean?
What it means is this: when you're a teen, hormones cause more problems than a submarine with screen doors. Hormones wreak havoc on your body, your mind, and your emotions. Once you start to mature, everything seems to calm down. So a diagnosis of any type in your teens should be reevaluated once you reach adulthood (usually around 25) to see if, in fact, you really have a behavioral health issue. Better safe than sorry, my grandma used to say.
The second is where a diagnosis took place, say, several years ago and there doesn't seem to be any improvement. "So," says I, "who gave you the diagnosis? And what was their recommendation for treatment?" And then I hear: "I went to my family physician who prescribed me X and that was it. I've been on it ever since." While the person felt better for a little bit, eventually a return to using substances became the pathway by which we ended up crossing paths. What happened?
Well, research indicates that medicine alone is not really all that effective. Talking about the situation with a trained professional that can teach you some self-management techniques shows the best promise for longer term recovery when it comes to behavioral health issues. And a follow up with a trained doctor specializing in behavioral health (mostly referred to as "the shrink") will also be able to determine if you need more, less, or any meds at all. Things change and so should your treatment plan.
Overall, in SMART Recovery, we have tools that can be applied to many different situations. I've seen people with mental health issues use SMART tools to get out of situations they find difficult; we don't have to be captives to a "label" or "diagnosis" and just think that this is as good as it gets. If you're struggling with something beyond your recovery, get SMART and get some help from people who can guide you toward living better.
---
PLEASE NOTE BEFORE YOU COMMENT:
SMART Recovery welcomes comments on our blog posts—we enjoy hearing from you! In the interest of maintaining a respectful and safe community atmosphere, we ask that you adhere to the following guidelines when making or responding to others' comments, regardless of your point of view. Thank you.
Be kind in tone and intent.
Be respectful in how you respond to opinions that are different than your own.
Be brief and limit your comment to a maximum of 500 words.
Be careful not to mention specific drug names.
Be succinct in your descriptions, graphic details are not necessary.
Be focused on the content of the blog post itself.
If you are interested in addiction recovery support, we encourage you to visit the SMART Recovery website.
IMPORTANT NOTE:
If you or someone you love is in great distress and considering self-harm, please call 911 for immediate help, or reach out to The National Suicide Prevention Hotline @800-273-8255, https://suicidepreventionlifeline.org/
We look forward to you joining the conversation!
*SMART Recovery reserves the right to not publish comments we consider outside our guidelines.*