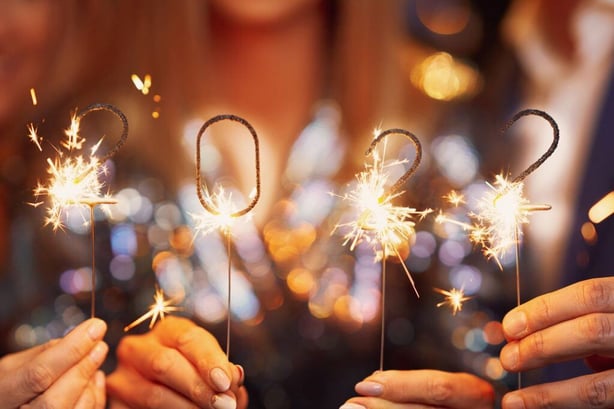 Looking for something fun to do on New Year's Eve? Then join the SMART Recovery Online community for the virtual, annual New Year's Eve Around the World! This 24-hour long event rings in 2022 in every time zone.
This nonstop meeting with hourly start times begins at 5:30 a.m. ET on December 31, 2021, and ends at 3:30 a.m. ET on January 1, 2022. Online meetings are laid back and fun with themes selected by that meeting's host.
What People are Saying
"It is a great resource and support for our participants on an especially vulnerable holiday."
"Having a place to go at any moment of the day is awesome."
"You can enjoy SMART meetings and benefit from positive, growth oriented conversation with peers vs other toxic alternatives"
Special Guest Hosts
Dr. Joe Gerstein – Motivation, Motivation, Motivation!
Dr. Tom Horvath – Most Helpful Ideas We Have Learned From Our Connection With SMART
Mike Hooper – What Does Lifestyle Balance Look Like to You?
Ted Perkins – SMART en Español
How to Participate
This event is free-of-charge. To participate, use your SMART Recovery Online (SROL) login credentials. You can create SROL credentials for free at www.smartrecovery.org/community/join.php, and get access to the event schedule and meeting link(s). *Verifications will NOT be provided*
RSVP on Facebook
Help us spread the news of our free, virtual event with your connections. RSVP to this event on Facebook and share it with friends and family.
You don't want to miss out on this fun day of community, celebration, and cheer. We look forward to seeing you and ringing in the new year together!
---
PLEASE NOTE BEFORE YOU COMMENT:
SMART Recovery welcomes comments on our blog posts—we enjoy hearing from you! In the interest of maintaining a respectful and safe community atmosphere, we ask that you adhere to the following guidelines when making or responding to others' comments, regardless of your point of view. Thank you.
Be kind in tone and intent.
Be respectful in how you respond to opinions that are different than your own.
Be brief and limit your comment to a maximum of 500 words.
Be careful not to mention specific drug names.
Be succinct in your descriptions, graphic details are not necessary.
Be focused on the content of the blog post itself.
If you are interested in addiction recovery support, we encourage you to visit the SMART Recovery website.
IMPORTANT NOTE:
If you or someone you love is in great distress and considering self-harm, please call 911 for immediate help, or reach out to The National Suicide Prevention Hotline @ 800-273-8255, https://suicidepreventionlifeline.org/
We look forward to you joining the conversation!
*SMART Recovery reserves the right to not publish comments we consider outside our guidelines.*