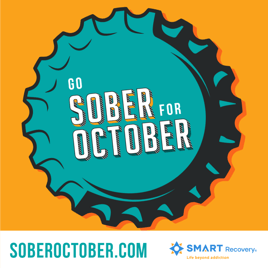 Years ago, Brett Macdonald and his friends had the time of their lives backpacking across Australia. After many conversations, they realized that heavy alcohol use had become a staple in their lives. This led them to creating a "sober competition" to see who could abstain from drinking the longest. From this, a global fundraising and awareness initiative was born. Brett is now the Managing Director of EzyRaise, a global fundraising platform, whose campaigns include Dry July Australia, Take on Addiction, and the latest, Sober October USA.
In this podcast, Brett talks about:
The history of Sober October campaigns in other countries
How SMART Recovery became the partner and beneficiary for the US campaign
Why and how to get involved with Sober October
The benefits of abstaining from alcohol
Coming to your own conclusions about alcohol
Useful features for participants, including an alcohol calculator and calendar
There is still time to join Sober October and support those in recovery
---
Click here to find all of SMART Recovery's podcasts
---
PLEASE NOTE BEFORE YOU COMMENT:
SMART Recovery welcomes comments on our blog posts—we enjoy hearing from you! In the interest of maintaining a respectful and safe community atmosphere, we ask that you adhere to the following guidelines when making or responding to others' comments, regardless of your point of view. Thank you.
Be kind in tone and intent.
Be respectful in how you respond to opinions that are different than your own.
Be brief and limit your comment to a maximum of 500 words.
Be careful not to mention specific drug names.
Be succinct in your descriptions, graphic details are not necessary.
Be focused on the content of the blog post itself.
If you are interested in addiction recovery support, we encourage you to visit the SMART Recovery website.
IMPORTANT NOTE:
If you or someone you love is in great distress and considering self-harm, please call 911 for immediate help, or reach out to 988 Suicide & Crisis Lifeline @ 988, https://988lifeline.org/
We look forward to you joining the conversation!
*SMART Recovery reserves the right to not publish comments we consider outside our guidelines.*