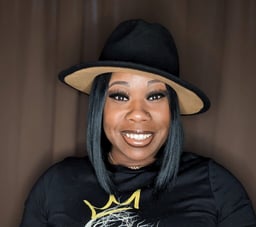 Markita Renee is thriving. Now four-plus years in recovery, she runs OOAK Services LLC where she is a recovery coach, motivational speaker, and facilitator. In addition to that, Markita works part-time as an employment specialist for the state of Connecticut's Department of Mental Health and Addiction Services, facilitates two SMART Recovery meetings, and loves being a great mom to her daughter Si'miaya. And how all of this came together still amazes her.
It was just a few years ago that Markita's life was a swirl of chaos and longing. In 2014 she lost all contact with her son after he was taken by his father, in 2015 she and her daughter became homeless, and during this time she was under court supervision for a felony charge. All these circumstances fueled her opioid use disorder and compounded alcohol misuse going back to her college days. She managed to get a job, but continued to struggle with substances. At one point everything crystallized into a gut-wrenching realization, followed by a single question, "Either I'm going to kill myself from overdose…or am I going to face what is in front of me and fight?"
This brutally honest insight seemed to trigger positive motion. Markita seized an opportunity to relocate from Oklahoma after her legal issues were resolved and joined a family member in Connecticut. She was working but it wasn't a good situation. Markita took a deep breath and decided to believe in herself enough to leave and look for something better, and that was when she started OOAK Services. Right after that the March 2020 pandemic lockdown happened.
At this critical point Markita's resolve to face any and all circumstances and fight for a better life was fully in effect. She chose to go back to school and study psychology, "I decided that the pandemic was a blessing in disguise, took that energy, and applied it to my education." Then, in what she sees as a sort of destiny, she found SMART Recovery.
The class assignment was to research an organization in the recovery field. Markita doesn't know exactly how it happened, but SMART popped up on her computer and it was an instant, heart-felt connection. SMART's focus on self-empowerment and practical tools resonated mightily. She liked that it wasn't about being told what to do—something Markita had always resisted while growing up. She wanted to know more and go beyond that class assignment.
Markita decided to learn everything she could about SMART and that led her to take the meeting facilitator training. It felt natural and right, "With SMART [you have] so many tools, so many resources, but you create your own path, it's up to you." That is the primary message she reinforces for participants in her meetings, but there are other aspects of being involved in SMART that are important to her.
Markita agreed to join a SMART committee that is focused on increasing diversity and inclusion for the BIPOC community, and was a panelist at a recent webinar examining diversity issues. For her, it's a matter of BIPOC individuals being able to see that there is a place in SMART for them, and that people who look like them are part of the organization.
Markita's next goal is to get a master's degree and become a therapist. She sees this as her calling, a way to, "Grow and elevate and serve my purpose of why I'm here as a human being." From SMART's perspective, Markita is already serving a great purpose by bringing her gifts and positive attitude to those in her meetings and the larger SMART community.