Guest blog written by Christopher Sullivan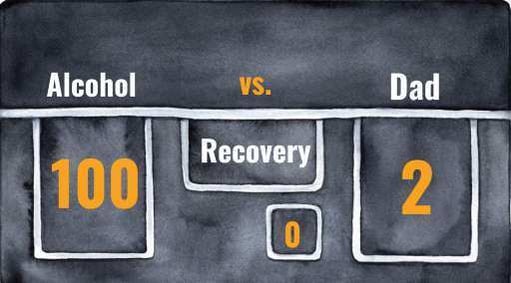 Most people in recovery do so for themselves; because they want to take back control of their lives. And rightfully so. You should be recovering for yourself. But, it may also be important to consider how your recovery gives life to those you love.
In my case, I watched my father give in to alcohol each day. Instead of standing by my father's side, I felt like more of a bystander. I wanted to be by him every step of the way, but my hands were tied: at least that's what I told myself. Being fresh into high school, my worry and anxiety towards my dad's well-being took a backseat. Yet, it was not long until the message-less nights and the alarming Instagram posts started to remind me of the severity of his addiction. 1-0 alcohol. I would call him until I knew his voicemail by heart, and I would text him until, no matter how far I scrolled, the only color I saw was blue. Once in a while I would get a text saying, "I'm okay", but I saw through that. Yet I still did nothing.
Fortunately, my grandmother took initiative. My father was sent to rehab in Florida, where he got better by the day. Every week he made a phone call to me, and every week I would heal a little inside. I went from getting two-word responses, to having him go through a whole breakdown of his day, and I couldn't have been happier. 1-1.
When I was reunited with him months later, the change was evident. No lack of communication, no depressive behavior, and best of all, no tipsiness. 2-1 dad. I was just about ready to hear his victory speech, when alcohol struck again. A drunk driver had crashed into my grandmother's car, killing her. Although I was in a state of grief, I was also afraid of what this meant for my father. And sure enough, after nearly 6 months of being sober, my father's trips to the bar resumed. I was back to frantically reaching out to my father, but to no avail. This time, on top of depression and alcoholism, my father was going up against immense grief as well. To top it all off, without my grandmother, he had no one to keep him in check. It was only 2 months later when the police found my father on the floor: his heart finally giving out.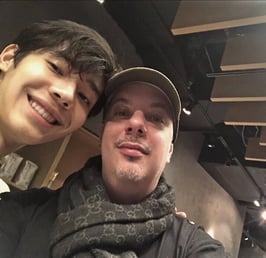 My point in sharing his story is: his story is my story. I was recovering vicariously through his recovery. His losses were my losses, and his victories were my victories. Seeing his bloody face on Instagram after a fight at the bar made me feel like I took a punch to the face myself. On the contrary, hearing he was getting stronger and healthier at rehab empowered me to actively improve my life.
Now I look back at the scoreboard between my dad and alcohol, and I see that alcohol is winning by a landslide. But it's not over yet. My father and I are a team, and he simply tagged me in. I currently volunteer at SMART Recovery, trying to tie up the score for us, only to find out that my dad and I had a lot more teammates than we thought. Each person at SMART is working to fend off addiction. There's no judgement here and SMART even offers a helping hand to the friends and family of those in recovery. Speaking of the friends and family of those in recovery, if you are an individual who is watching a loved one battle addiction, remember that you're their teammate. Even though it may be their battle against addiction, don't be afraid to help, like I was. Because as it turns out, your support could help them through their toughest battle, and because their victory is your victory.
Watch Christopher's Life Beyond Addiction video.
---
PLEASE NOTE BEFORE YOU COMMENT:
SMART Recovery welcomes comments on our blog posts—we enjoy hearing from you! In the interest of maintaining a respectful and safe community atmosphere, we ask that you adhere to the following guidelines when making or responding to others' comments, regardless of your point of view. Thank you.
Be kind in tone and intent.
Be respectful in how you respond to opinions that are different than your own.
Be brief and limit your comment to a maximum of 500 words.
Be careful not to mention specific drug names.
Be succinct in your descriptions, graphic details are not necessary.
Be focused on the content of the blog post itself.
If you are interested in addiction recovery support, we encourage you to visit the SMART Recovery website.
IMPORTANT NOTE:
If you or someone you love is in great distress and considering self-harm, please call 911 for immediate help, or reach out to The National Suicide Prevention Hotline @800-273-8255, https://suicidepreventionlifeline.org/
We look forward to you joining the conversation!
*SMART Recovery reserves the right to not publish comments we consider outside our guidelines.*