Take 5 Spotlight is a series of brief articles that introduce you to members of our National Office team, and many other SMART-types, in a short & sweet way.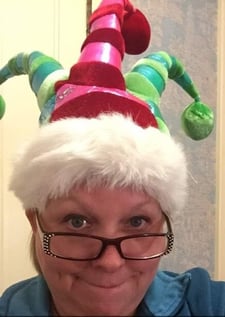 If you called Office Assistant Leah McSween's journey to SMART employment quick, then you might just be understating it. As Leah points out, "I think from application date to hire date was two weeks. Kind of a whirlwind." While due, in part, to the SMART's being a smaller agency back in 2019, it also indicated the fit was right, and both sides knew it.
Leah says initially she was hired to answer incoming calls and emails, help with bookshop operations, answer prison inquiries, and—key to any organization's success—be a person who chips in generally with "any odd item someone might need assistance with." A role that is invaluable and takes a generous spirit.
Today Leah's responsibilities continue to grow, but her work comes down to the ultimate reward: being able to help others who may be in crisis. It starts with a simple phone call of a certain kind. "The one where someone is crying [and] seeking answers. You hold their hand, provide as much comfort as you can, and show them where to find information. My heart breaks for them and I want to hug them tight." Something one can see Leah accomplishing—even through the phone.
---
Here are Leah's responses to the Take 5 Spotlight questions:
Are there tasks you perform regularly during your workday? I'm responsible to make sure that the donations that come in through the bookshop, website, and meetings are organized correctly, thank you notes are sent, and reports run. I also monitor how orders are being fulfilled on a daily basis and assuring they are getting out in a timely fashion.


What are a couple of the ways you interact and coordinate your job with other staff? Jodi, Jasmine, and I share and overlap on many items and communicate all day long. We will let the others know if we plan to work on something, so they don't need to worry about getting to it, and remind each other of outstanding tasks. Also, we laugh and joke which helps [make] some of the serious stuff we do a little easier. It also builds a bond of trust and camaraderie.


What is one of the ways that you think you personally make a difference at SMART? I do my job to the best of my ability and hope I don't mess anything up. To me, at the end of the day, if I've answered who needs to be answered and helped anyone that has asked and they feel taken care of, then I've made a difference.


What is your message to all those dedicated SMART volunteers across the country? Those volunteers that run our meetings are exceptional individuals. They are selfless, kind, compassionate and tireless. There are no words to thank them, I am in awe!


What kinds of things are you interested in outside of work? I knit, spin, weave, paint, and am trying to learn how to carve wooden spoons right now. I love to cook good tasting food and share it with others. I would much rather read than watch TV and on any given day probably have two to three books I'm reading, including reading Dr. Doolittle with my 7-year-old great nephew in Hawaii. We're having a book club of two. He reminds me of how lovely life can be.
Sounds like there is probably some tasty fare being prepared in between book chapters, and possibly a new wooden spoon will soon be joining other utensils in the mix. What's clear is that whatever Leah ends up doing at work or at home, it's consistent with one of her core principles, "I believe we are all here to help each other." Leah McSween lives it.
Learn more about the Take 5 Spotlight series and see others who have been profiled.
---
PLEASE NOTE BEFORE YOU COMMENT:
SMART Recovery welcomes comments on our blog posts—we enjoy hearing from you! In the interest of maintaining a respectful and safe community atmosphere, we ask that you adhere to the following guidelines when making or responding to others' comments, regardless of your point of view. Thank you.
Be kind in tone and intent.
Be respectful in how you respond to opinions that are different than your own.
Be brief and limit your comment to a maximum of 500 words.
Be careful not to mention specific drug names.
Be succinct in your descriptions, graphic details are not necessary.
Be focused on the content of the blog post itself.
If you are interested in addiction recovery support, we encourage you to visit the SMART Recovery website.
IMPORTANT NOTE:
If you or someone you love is in great distress and considering self-harm, please call 911 for immediate help, or reach out to The National Suicide Prevention Hotline @800-273-8255, https://suicidepreventionlifeline.org/
We look forward to you joining the conversation!
*SMART Recovery reserves the right to not publish comments we consider outside our guidelines.*