Take 5 Spotlight is a series of brief articles that introduce you to members of our National Office team, and many other SMART-types, in a short & sweet way.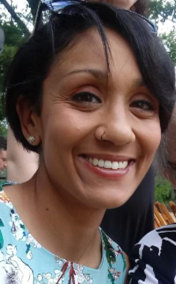 Sometimes hearing about a company from someone on the inside makes for a great job connection. That's what happened for SMART's Office Assistant Jas Hilbert. A SMART employee suggested she check out SMART, and Jas says she fell in love with the program. Next stop: new hire paperwork.
So far, Jas is rewarding SMART for hiring her by virtue of her dedication and efficiency, and she says she already reaps benefits, too. "The most rewarding thing to me is helping someone find a meeting. I especially love when they call back and tell me how they liked the meeting." Jas says she even had a person call back and say they loved the program so much they wanted to take the facilitator training.
Jas's lived experience helps her do her job. "I think my life experiences have helped shape the presence I have on the phone with participants. I've been through recovery myself, and as a result I am able to connect with our participants."
---
Here are Jas's responses to the Take 5 Spotlight questions:
Are there tasks you perform regularly during your workday? I answer calls and emails daily from participants and volunteers. I am also back-up for training, verifications and Volunteer Headquarters (VolunteerHQ).


What are a couple of the ways you interact and coordinate your job with other national office staff? I am blessed to work with an amazing team. We use Zoom to stay connected with each other throughout the workday and offer encouragement. I have also had many opportunities to learn and train in different areas of SMART so that I can provide additional support for my colleagues.


What is one of the ways that you think you personally make a difference at SMART? I think my willingness to learn new things and become cross-trained has had a positive impact for SMART. I believe that being part of the Diversity and Inclusion committee is a great opportunity to help SMART, and I am bilingual in Spanish so that contributes as well.


What is your message to all those dedicated SMART volunteers across the country? My message is a message of gratitude. I am so thankful for our volunteers that are out there saving and enriching lives. Our fingerprints don't fade from the lives we touch. Thank you!


What kinds of things are you interested in outside of work? I love to build and repurpose furniture. I enjoy knitting while binge watching HGTV. Also, game nights with my family, eating chocolate, and CrossFit training. Plus, I think being a mother is a blast!
While Jas continues to leave her empathetic fingerprints on the lives of participants, SMART will continue benefitting from her presence. Being a person who can relate to recovery is certainly an added bonus for all involved.
Learn more about the Take 5 Spotlight series and see others who have been profiled.
---
PLEASE NOTE BEFORE YOU COMMENT:
SMART Recovery welcomes comments on our blog posts—we enjoy hearing from you! In the interest of maintaining a respectful and safe community atmosphere, we ask that you adhere to the following guidelines when making or responding to others' comments, regardless of your point of view. Thank you.
Be kind in tone and intent.
Be respectful in how you respond to opinions that are different than your own.
Be brief and limit your comment to a maximum of 500 words.
Be careful not to mention specific drug names.
Be succinct in your descriptions, graphic details are not necessary.
Be focused on the content of the blog post itself.
If you are interested in addiction recovery support, we encourage you to visit the SMART Recovery website.
IMPORTANT NOTE:
If you or someone you love is in great distress and considering self-harm, please call 911 for immediate help, or reach out to The National Suicide Prevention Hotline @800-273-8255, https://suicidepreventionlifeline.org/
We look forward to you joining the conversation!
*SMART Recovery reserves the right to not publish comments we consider outside our guidelines.*