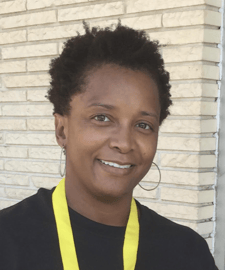 It's true that money can't buy love, but foundations, government and corporate funders provide monetary resources that can buy organizations a whole lot of other things. And connecting with those sources of funding is now Kenya Welch's job at SMART.
Kenya is the new Grant Writer Consultant and she says it's her job to connect SMART with funding. Funding that can then help SMART's reach the most people possible with our program. Funding can help us to do anything from putting new staff resources in place, providing scholarships for training facilitators, and making sure that volunteers are supported in the best ways possible.
Kenya came to SMART believing that people in crisis are sometimes hiding in plain sight, and this reality touched her in deep way, "I like helping new people become more aware about how substance use impacts, often devastates, families and communities. I think organizations like SMART Recovery are critical to making the world a kinder place for people in recovery and their families."
In previous positions Kenya has worked to improve underserved and overlooked community members. She discovered how much substance use disorders intersect with many other issues like poverty, employment, education, and mass incarceration.
---
Here are Kenya's responses to the Take 5 Spotlight questions:
Are there tasks you perform regularly during your workday? I do a great deal of reading, researching and writing about topics related to recovery and the many communities that it impacts.


What are a couple of the ways you interact and coordinate your job with national office staff? I get to coordinate with team members to discuss new funding opportunities, to learn about their work, and to discover ways SMART can take advantage of funding opportunities.


What is one of the ways that you think you personally make/want to make a difference at SMART? I want to help connect SMART to funders so that we can increase our capacity and reach more people who need help.


What is your message to all those dedicated SMART volunteers across the country? Thank you for the important and often difficult work that you do!


What kinds of things are you interested in outside of work? Any hobbies? I love travelling & exploring new places, spending time with family, listening to live music, and trying to keep up with my 8-year-old son. I also enjoy renovating houses- I've redone 3 houses in the last 5 years!
So, if Kenya is not busy packing her bags to go places, checking out live music, or making sure her power tools are charged, she can probably be found working to connect SMART with people who can write big checks! And it's to SMART's benefits that she is now connected to us.
Learn more about the Take 5 Spotlight series and see others who have been profiled.
---
PLEASE NOTE BEFORE YOU COMMENT:
SMART Recovery welcomes comments on our blog posts—we enjoy hearing from you! In the interest of maintaining a respectful and safe community atmosphere, we ask that you adhere to the following guidelines when making or responding to others' comments, regardless of your point of view. Thank you.
Be kind in tone and intent.
Be respectful in how you respond to opinions that are different than your own.
Be brief and limit your comment to a maximum of 500 words.
Be careful not to mention specific drug names.
Be succinct in your descriptions, graphic details are not necessary.
Be focused on the content of the blog post itself.
If you are interested in addiction recovery support, we encourage you to visit the SMART Recovery website.
IMPORTANT NOTE:
If you or someone you love is in great distress and considering self-harm, please call 911 for immediate help, or reach out to 988 Suicide & Crisis Lifeline @ 988, https://988lifeline.org/
We look forward to you joining the conversation!
*SMART Recovery reserves the right to not publish comments we consider outside our guidelines.*