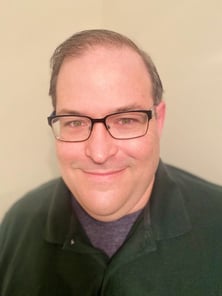 For Brad Glaser, SMART's Project Coordinator for Fletcher Group Grants, coming to work for SMART seems like a kind of natural progression, "I have been a participant in SMART Recovery going back nine years and became a facilitator in 2019. When this position with SMART became available, I was so excited to come to work for an organization that has meant so much to my life."
Brad now focuses on bringing SMART Recovery, specifically the Successful Life Skills curriculum, to recovery homes nationwide. He gets to witness firsthand the positive impact the program has on their residents. This is especially important when you consider the participants are at a transitional time in the recovery process, "When you see a concept truly click into place for someone or hear a resident recount how they used a SMART tool in their own life, it is affirming and inspiring."
A background in sales and marketing provided Brad with a lot of experience dealing with people of all kinds, "My experience with clients has been a huge help in working with the recovery homes both in the recruitment and implementation process." More recently, Brad's work in peer support has deepened his understanding varied recovery experiences.
---
Here are Brad's responses to the Take 5 Spotlight questions:
Are there tasks you perform regularly during your workday? It varies, everything from recruiting homes to scheduling to troubleshooting technology. I also facilitate the classes for a couple of homes, officially to have a hands-on feel for the initiative, but mostly because I love facilitating SMART meetings!


What are a couple of the ways you interact and coordinate your job with national office staff? There are so many people in the National Office who touch this project! I really can't list them all (but I'll try). I interact in myriad administrative ways with Alena Kuplinski, Lorie White, Jodi Dayton, Renee Mathey, and Joanne Wyant. When I need strategic guidance, I turn to our Acting Executive Director Christi Alicea. For help in recruiting and communicating with volunteers, Melina Gilbert is always there to help. It is a total team effort!


What is one of the ways that you think you personally make/want to make a difference at SMART? I think expanding the reach of our Successful Life Skills program makes a difference in many lives in both practical and socially positive ways.


What is your message to all those dedicated SMART volunteers across the country? As a volunteer facilitator myself, I count that work as the most important of my life, volunteer or otherwise. I always keep a focus on the fact that everything we do here is about supporting what happens in SMART spaces, especially meetings. The work of our volunteers is where the rubber meets the road, and the number of people who volunteer their time in running meetings and nurturing SMART communities is inspiring.


What kinds of things are you interested in outside of work? Any hobbies? First off, I spend a ton of time with my amazing wife Julia and our beagle Fern. Being borderline rabid sports fans, we all cheer our favorite teams, including the New Orleans Pelicans and Saints. We live just outside of New Orleans, one of the great restaurant and music cities in the world, and we take regular advantage of both. I'm also a huge nerd, and I have a great group of gamer friends with whom I play board games and RPG's.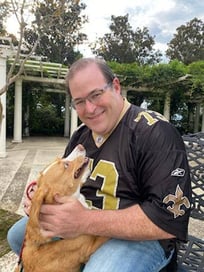 Food, fun, and SMART facilitation. Sounds like Brad's life in the Big Easy is really rolling nicely on the river.
Learn more about the Take 5 Spotlight series and see others who have been profiled.
---
PLEASE NOTE BEFORE YOU COMMENT:
SMART Recovery welcomes comments on our blog posts—we enjoy hearing from you! In the interest of maintaining a respectful and safe community atmosphere, we ask that you adhere to the following guidelines when making or responding to others' comments, regardless of your point of view. Thank you.
Be kind in tone and intent.
Be respectful in how you respond to opinions that are different than your own.
Be brief and limit your comment to a maximum of 500 words.
Be careful not to mention specific drug names.
Be succinct in your descriptions, graphic details are not necessary.
Be focused on the content of the blog post itself.
If you are interested in addiction recovery support, we encourage you to visit the SMART Recovery website.
IMPORTANT NOTE:
If you or someone you love is in great distress and considering self-harm, please call 911 for immediate help, or reach out to 988 Suicide & Crisis Lifeline @ 988, https://988lifeline.org/
We look forward to you joining the conversation!
*SMART Recovery reserves the right to not publish comments we consider outside our guidelines.*