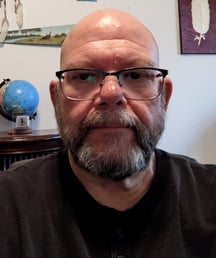 Steve Kind of Mankato, Minnesota, is a SMART Facilitator and new SMART employee. His alcohol struggles began in high school and continued into adulthood. After his second DUI, he was about to lose everything, including his wife. Then an open-minded, forward-thinking counselor suggested he look into SMART as a new path to recovery. Now he is living his Life Beyond Addiction.
In this podcast, Steve talks about:
His struggle with alcohol addiction and the 12-Step recovery process
How his views on driving under the influence have changed over the years
Being a defensive Christian and then an Atheist
Being introduced to SMART and watching a Jonathan von Breton YouTube video
What came from traveling 70 miles to attend a SMART meeting
Sitting in a meeting room by himself and waiting for participants
The word-of-mouth "snowball effect"
Writing a book about his life: The Inspirational Dissatisfaction
How a job in California almost cost him everything
Getting off the couch and changing your life!
Additional resources:
---
Click here to find all of SMART Recovery's podcasts
---
PLEASE NOTE BEFORE YOU COMMENT:
SMART Recovery welcomes comments on our blog posts—we enjoy hearing from you! In the interest of maintaining a respectful and safe community atmosphere, we ask that you adhere to the following guidelines when making or responding to others' comments, regardless of your point of view. Thank you.
Be kind in tone and intent.
Be respectful in how you respond to opinions that are different than your own.
Be brief and limit your comment to a maximum of 500 words.
Be careful not to mention specific drug names.
Be succinct in your descriptions, graphic details are not necessary.
Be focused on the content of the blog post itself.
If you are interested in addiction recovery support, we encourage you to visit the SMART Recovery website.
IMPORTANT NOTE:
If you or someone you love is in great distress and considering self-harm, please call 911 for immediate help, or reach out to 988 Suicide & Crisis Lifeline @ 988, https://988lifeline.org/
We look forward to you joining the conversation!
*SMART Recovery reserves the right to not publish comments we consider outside our guidelines.*