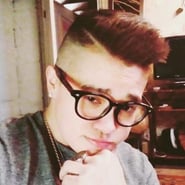 Alicia Renegar is a Certified Addiction Peer Recovery Coach and SMART Facilitator in Columbus, Indiana. As a gay woman, she faced much adversity and discrimination throughout her life. She shares how she has turned this negativity into strength and is helping others on their path to recovery.
In this podcast, she talks about:
The challenges and discrimination she faced from administrators and peers during her school years
How people's fear of change impacts their decisions and attitudes towards what they perceive as different
Her parents being very supportive and giving her a solid foundation to be who she is
The journey to becoming herself
How her deep-seated trauma pushed through and ultimately led to her addiction
Volunteering then working for ASAP Hub
Finding SMART and taking the facilitator training course
Starting an LGBTQIA+ meeting in Columbus, Indiana
Why SMART resonates with people
The proudest moment of her life was becoming a Certified Addiction Peer Recovery Coach
The obstacles and dangers of being an LGBTQIA+ activist
Additional resources:
---
Click here to find all of SMART Recovery's podcasts
---
PLEASE NOTE BEFORE YOU COMMENT:
SMART Recovery welcomes comments on our blog posts—we enjoy hearing from you! In the interest of maintaining a respectful and safe community atmosphere, we ask that you adhere to the following guidelines when making or responding to others' comments, regardless of your point of view. Thank you.
Be kind in tone and intent.
Be respectful in how you respond to opinions that are different than your own.
Be brief and limit your comment to a maximum of 500 words.
Be careful not to mention specific drug names.
Be succinct in your descriptions, graphic details are not necessary.
Be focused on the content of the blog post itself.
If you are interested in addiction recovery support, we encourage you to visit the SMART Recovery website.
IMPORTANT NOTE:
If you or someone you love is in great distress and considering self-harm, please call 911 for immediate help, or reach out to The National Suicide Prevention Hotline @ 800-273-8255, https://suicidepreventionlifeline.org/
We look forward to you joining the conversation!
*SMART Recovery reserves the right to not publish comments we consider outside our guidelines.*