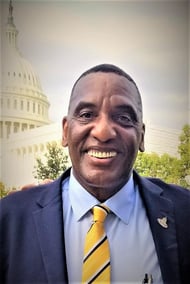 Barry Grant's experiences being incarcerated over 20 years ago changed and shaped his future forever. Today, Barry is the owner of S.A.F.E Counseling Services, Director of Outpatient Services at Hope House, and SMART board member. His tireless championing of the SMART program has helped countless people in their recovery journey.
In this podcast, Barry talks about:
His history of being incarcerated and finding SMART while in prison
Using his time in prison as an opportunity to grow and share experiences with others
SMART being in the here and now, not the past
Examining and evaluating the human experience
His meaning of recovery
Choosing your behavior means choosing your consequences
Becoming an autodidactic counselor
The difference between being ready and being prepared
Changing the vocabulary for incarcerated people
How SMART principles are applicable to life situations
Asking "Who Are You?"
Additional resources:
---
Click here to find all of SMART Recovery's podcasts
---
PLEASE NOTE BEFORE YOU COMMENT:
SMART Recovery welcomes comments on our blog posts—we enjoy hearing from you! In the interest of maintaining a respectful and safe community atmosphere, we ask that you adhere to the following guidelines when making or responding to others' comments, regardless of your point of view. Thank you.
Be kind in tone and intent.
Be respectful in how you respond to opinions that are different than your own.
Be brief and limit your comment to a maximum of 500 words.
Be careful not to mention specific drug names.
Be succinct in your descriptions, graphic details are not necessary.
Be focused on the content of the blog post itself.
If you are interested in addiction recovery support, we encourage you to visit the SMART Recovery website.
IMPORTANT NOTE:
If you or someone you love is in great distress and considering self-harm, please call 911 for immediate help, or reach out to The National Suicide Prevention Hotline @ 800-273-8255, https://suicidepreventionlifeline.org/
We look forward to you joining the conversation!
*SMART Recovery reserves the right to not publish comments we consider outside our guidelines.*