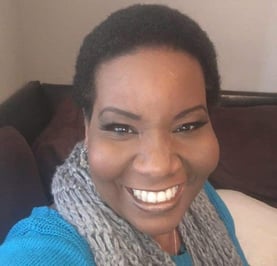 Eboni Jewel Sears's life has been full of unique and interesting experiences and opportunities. Growing up, her military family moved throughout the country; today Las Vegas, Nevada, is home. Her professional journey has taken her from being a Navy Seabee to a long-haul truck driver to currently a peer recovery support specialist at the Alternative Peer Group Las Vegas. It's here that she counsels teens in recovery using the SMART Recovery tools and principles.
In this podcast, Eboni talks about:
Being a SMART facilitator and peer recovery support specialist
Using exchange vocabulary with the teens to bridge the gap between AA and SMART terminology
Why she was reluctant to become a SMART facilitator and what changed her mind
Ways she makes learning the SMART tools fun for her teen participants
Keeping her recovery and sexual identity hidden while in the Navy
That it's okay to have fun in recovery
Wanting a better life for herself and daughter
Working with the Las Vegas School District to get SMART Recovery into the Mission High School curriculum
Being an African American, LGBT, Female
SMART concepts fitting well into spiritual concepts
2020 being a year of change
Additional Resources
---
Click here to find all of SMART Recovery's podcasts
---
PLEASE NOTE BEFORE YOU COMMENT:
SMART Recovery welcomes comments on our blog posts—we enjoy hearing from you! In the interest of maintaining a respectful and safe community atmosphere, we ask that you adhere to the following guidelines when making or responding to others' comments, regardless of your point of view. Thank you.
Be kind in tone and intent.
Be respectful in how you respond to opinions that are different than your own.
Be brief and limit your comment to a maximum of 500 words.
Be careful not to mention specific drug names.
Be succinct in your descriptions, graphic details are not necessary.
Be focused on the content of the blog post itself.
If you are interested in addiction recovery support, we encourage you to visit the SMART Recovery website.
IMPORTANT NOTE:
If you or someone you love is in great distress and considering self-harm, please call 911 for immediate help, or reach out to The National Suicide Prevention Hotline @ 800-273-8255, https://suicidepreventionlifeline.org/
We look forward to you joining the conversation!
*SMART Recovery reserves the right to not publish comments we consider outside our guidelines.*