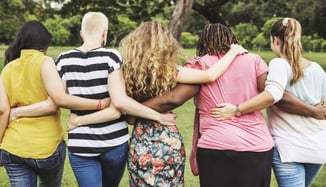 Loretta Billingsley has been working in the media industry since the 1980's and still loves what she does to this day. Another thing she loves is facilitating the SMART Women's meeting on Saturday mornings. Loretta knows the personal growth and connections formed during those meetings have helped change lives, and for that she is grateful.
In this podcast, Loretta talks about:
Being one of the pioneer women who started the women's meeting
Why the meeting has grown in popularity in the last year
Notable guest speakers from the recovery community
Her four levels of collective sharing
Why inclusivity needed to be a part of the SMART community
How we're all recovering from something
Humanity being the great connector
Using practices instead of tools
The journey down a new road of recovery
Additional resources:
---
Click here to find all of SMART Recovery's podcasts
---
PLEASE NOTE BEFORE YOU COMMENT:
SMART Recovery welcomes comments on our blog posts—we enjoy hearing from you! In the interest of maintaining a respectful and safe community atmosphere, we ask that you adhere to the following guidelines when making or responding to others' comments, regardless of your point of view. Thank you.
Be kind in tone and intent.
Be respectful in how you respond to opinions that are different than your own.
Be brief and limit your comment to a maximum of 500 words.
Be careful not to mention specific drug names.
Be succinct in your descriptions, graphic details are not necessary.
Be focused on the content of the blog post itself.
If you are interested in addiction recovery support, we encourage you to visit the SMART Recovery website.
IMPORTANT NOTE:
If you or someone you love is in great distress and considering self-harm, please call 911 for immediate help, or reach out to The National Suicide Prevention Hotline @ 800-273-8255, https://suicidepreventionlifeline.org/
We look forward to you joining the conversation!
*SMART Recovery reserves the right to not publish comments we consider outside our guidelines.*