We are pleased to announce that we have launched a new and improved website! Visit www.smartrecovery.org for an upgraded online experience.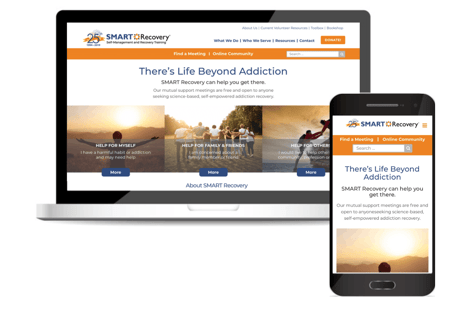 The new SMART Recovery website features:
An Overall Website Refresh: While most of the website content and functionality remains the same, you will find changes to the look and feel of our homepage and several of its linked pages. We have worked hard to simplify and clarify our content to better serve those with addiction, their family & friends, and others who help people overcome addiction in their communities.
Navigational Changes: We have introduced new website menus, which make navigating through our website more intuitive.
Dedicated Volunteer Resources: We have launched a new webpage geared toward our current volunteers. Soon, we will be creating a full portal, accessible only by our volunteers, which will contain many more valuable pages and resources. This portal will include special announcements, a volunteer toolbox, FAQs, meeting and marketing tools and tips, and much more. Stay tuned!
Other Upgrades to Come! We'll keep you posted as new, helpful resources are released.
---
THANK YOU!
Special thanks to our volunteers and employees who have worked tirelessly over the past few months on these upgrades. We appreciate your input and efforts!