Things were a little touch-and-go as to whether SMART's 2017 Annual Conference: Rising Strong would be able to occur in Ft. Lauderdale on September 22-24. But much like the conference theme and SMART's unstoppable growth, Rising Strong took place as scheduled. The Conference was well attended and received great ratings from the volunteers, meeting participants and treatment professionals who attended.
SMART remains grateful for the financial support of our sponsors, Synergy Recovery Center/Synergy Executive, and the Florida branch of NAADAC.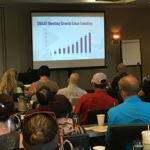 The President's Address by Dr. Joe Gerstein, and Guerrilla Tactics for the Hostile, Difficult, Disengaged, and Over-Engaged Participant Part 2 by Dr. David Saenz were the two favorite presentations of attendees.
SMART's new 5-Year Strategic Plan was debuted at the Conference, and included in many of the comments during Dr. Gerstein's President's Address. A copy of the Strategic Plan can be found here.
"Great conference, well organized and concise, no wasted time. I learned things I will use and facilitate meetings a little differently." Dan Piddington, Synergy Recovery Center and SMART Facilitator
Also enjoyed were new results from the Peer Alternatives to Addiction (PAL) study, presented by Dr. Sarah Zemore, and a research review by Dr. William Campbell of the Checkup & Choices app, which when used in conjunction with SMART meetings, is shown to enhance recovery outcomes.
Organizational-related presentations — including an update on SMART Recovery International; BMore SMART, a program for growing SMART in inner cities; and SMART coming alive on Prince Edward Island, Canada — were each well received.
"Totally enjoyed the fellowship and enthusiasm of members from all over the U.S., Australia, Canada, and England. SMART continues to be supported by science, hard to argue with data. I learned some new skills from other facilitators. Dr. Joe continues to inspire." Michael Weiner, Treatment Professional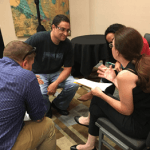 Breakout sessions on four topics of interest to attendees were enjoyed and considered a valuable learning experience.
Dr. Don Sheeley received the 2017 Joseph Gerstein Award for Outstanding Service. While not able to attend because of a conflict, Dr. Sheeley expressed it was an honor to learn of his selection following the meeting.
"The conference was very helpful and informative. I got to meet many fellow travelers in the world of recovery from old destructive behaviors and the men and women who work hard to support me. My passion to bring SMART to as many as possible continues to just rise up!" James R. Moore, SMART Facilitator, West Palm Beach, FL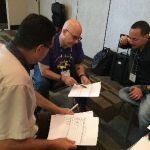 Sunday's Motivational Interviewing Workshop, led by Dr. Lori Eickleberry was extremely well received, with ratings of 9 out of 10 for every question on the evaluation form. Comments included: "One of the best workshops re: usefulness & practical application & helpful key skills", and "Lori was fantastic and did wonderful within the time allotted."
Special thanks to the GALLERYone DoubleTree Hotel for working hard to ensure the Conference could take place, though many of their guestrooms and some meeting space had water damage from Hurricane Irma.
Networking and reconnecting with the SMART community are always atop the list of things most enjoyed by Conference participants. It's really an event not to be missed – start planning now to join us in the fall of 2018. Stay tuned for dates and location.