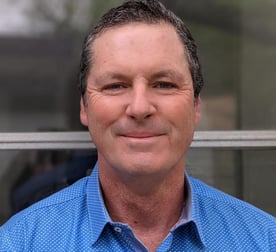 Talk about the right place at the right time. When Luke Frazier, SMART's Director of Marketing and Communications was sitting in a crowded coffee shop he was overheard talking about the kind of communications work he was doing. A person who worked for SMART Recovery overheard, and SMART was looking for communications help at that time. The rest, as they say, is history. Luke says, "I wasn't even planning to go to that coffee shop. My schedule changed and I ended up there."
Luke immediately felt that SMART was a cause he wanted to help, and, after working as a consultant for two years, he was named to his current position two months ago. Now he oversees all the marketing activities, like newsletters and advertisements, drafts and edit documents, host podcasts, and helps develops overall communications strategy. "Basically, I try to get the word out about how SMART is a great pathway to recovery."
With a background that includes broadcasting, public relations, and nonprofit management, Luke brings a wide range of skills to the job of spreading SMART's message of recovery, "It's important that a marketing and communications professional have experience interacting with a broad and diverse range of audiences." Luke says his entire career has involved communications about positive organizations and people.
---
Here are Luke's responses to the Take 5 Spotlight questions:
Are there tasks you perform regularly during your workday? I am writing something about SMART every day, it just depends on who needs help and what specific information about SMART they are trying to communicate. I also keep my eye out for any press coverage and follow-up as necessary.


What are a couple of the ways you interact and coordinate your job with other national office staff? Well, there are many ways I interact with SMART staff on a regular basis. I'm involved if there are initiatives or programs that need marketing to the larger community.


What is one of the ways that you think you personally make a difference at SMART? A well-crafted piece of writing carries a clear message and so it has a positive impact—hopefully causing someone to do something like take advantage of what SMART has to offer or tell others about it. I also think a great podcast interview really gets the SMART message across.


What is your message to all those dedicated SMART volunteers across the country? Keep believing in what you're doing, it's worth it! And make sure to ask me for help getting the word out, I really enjoy doing it!


What kinds of things are you interested in outside of work? I love going to the woods and just enjoying the quiet. On the other hand, I enjoy lots of different kinds of music, played loud. I'm also an avid reader and always up for a road trip to the beach (lake or ocean).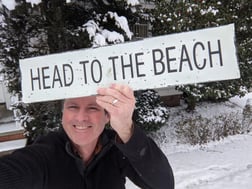 One thing is clear about Luke Frazier's communications work for SMART Recovery: he's willing to try to carry the message in whatever way works. It's obvious he enjoys spreading the word about how SMART can help, and you might just find him in a coffee shop one day, talking about it.
Learn more about the Take 5 Spotlight series and see others who have been profiled.
---
PLEASE NOTE BEFORE YOU COMMENT:
SMART Recovery welcomes comments on our blog posts—we enjoy hearing from you! In the interest of maintaining a respectful and safe community atmosphere, we ask that you adhere to the following guidelines when making or responding to others' comments, regardless of your point of view. Thank you.
Be kind in tone and intent.
Be respectful in how you respond to opinions that are different than your own.
Be brief and limit your comment to a maximum of 500 words.
Be careful not to mention specific drug names.
Be succinct in your descriptions, graphic details are not necessary.
Be focused on the content of the blog post itself.
If you are interested in addiction recovery support, we encourage you to visit the SMART Recovery website.
IMPORTANT NOTE:
If you or someone you love is in great distress and considering self-harm, please call 911 for immediate help, or reach out to 988 Suicide & Crisis Lifeline @ 988, https://988lifeline.org/
We look forward to you joining the conversation!
*SMART Recovery reserves the right to not publish comments we consider outside our guidelines.*