Guest blog by Jeffry Muhleman, SMART Recovery Facilitator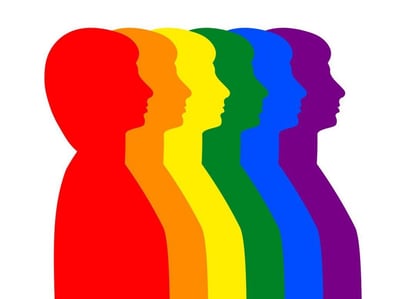 Members of the LGBTQ+ community come to recovery with a unique set of issues. Please understand that these issues are not necessarily exclusive to the LGBTQ+ community, as anyone in a marginalized minority (defined by ethnicity, socioeconomic status, disability, etc.) would find commonality with the many issues that could be discussed. For the sake of this post, though, the discussion is from the LGBTQ+ perspective.
I recently read that compared to the general population, people identifying as LGBTQ+ are three times more likely to have a struggle with addiction (9% vs 30%)! This dovetails with a much higher incidence of co-occurring disorders, such as depression. Low self-esteem, anxiety, suicidal thoughts, and self-harm factor into this equation. Transgender persons tend to struggle with eating disorders at a far higher rate than the heterosexual population.
From where does this all come?
Though great strides have been made in the community, with gay/straight alliances on high school campuses and acceptance of same-sex marriage by the majority of Americans, vocal opposition to same-sex attraction and gender dysphoria has become more strident in the current political climate. Regardless in which era one has grown up since the Stonewall riots of 1969, anyone not fitting the heteronormative stereotype has experienced negative pushback from family, peers, or society generally. (It has been suggested that up to 40% of young male runaways do so over family rejection of the young man's sexual orientation!)
The awareness that one is somehow "different" from the population at large coupled with negative familial or social messaging is not without its toll on a young psyche.
The toll this can take ranges from conscious thought in the form of toxic shame ("Something is wrong with me, I'm not normal, I am an aberration, a mistake.") to subconscious, internalized homophobia, an unfortunate dislike of oneself due to sexual orientation or gender identity because the message is that a person in this category is not to be accepted or deserving of approval.
It is no wonder then that depression, anxiety, and other emotional disorders result. To find positive self-esteem in this light requires more than self-affirmations. Humans are familial and social. As much as we'd like our feelings of self-worth, that we're okay, should not be dependent on influences from outside of us, what does one do when the negative message is ingrained in our thoughts or subconscious mind?
It is no mystery that substance use can provide an immediate, though temporary, respite from all this. A substance numbing negative feelings, allowing a person to feel okay being themselves can prove irresistible. No one partakes with the intention to become addicted, but the intensity of the need leads down that rabbit hole.
I will be the first person to say that the SMART Recovery process (the tools) is sexual orientation and gender identity agnostic. The process that puts an end to addiction is the same for everyone. However, the reason SMART offers meetings for the LGBTQ+ community (and other groups) is to provide a forum where common experience and unique understanding inform the conversation.
Though SMART tools are no replacement for therapies that can assist the conscious or unconscious change of mindset, they can elicit a self-awareness, a mindfulness, that can create a foundation to help such therapy be more effective.
Understanding the underlying factors leading to substance abuse enables one to better manage thoughts, feelings, and behaviors to end addiction.
By no means am I saying this applies to everyone in the LGBTQ+ community with a substance use disorder, but if estimates of co-occurring disorders are anywhere near accurate, they bear at least consideration as potential contributing factors to addiction. Dealing with toxic shame or internalized self-loathing concurrently with the SMART Recovery process should increase the chances of success many times over.
Watch Jeffry in his Facilitator Spotlight video.
---
PLEASE NOTE BEFORE YOU COMMENT:
SMART Recovery welcomes comments on our blog posts—we enjoy hearing from you! In the interest of maintaining a respectful and safe community atmosphere, we ask that you adhere to the following guidelines when making or responding to others' comments, regardless of your point of view. Thank you.
Be kind in tone and intent.
Be respectful in how you respond to opinions that are different than your own.
Be brief and limit your comment to a maximum of 500 words.
Be careful not to mention specific drug names.
Be succinct in your descriptions, graphic details are not necessary.
Be focused on the content of the blog post itself.
If you are interested in addiction recovery support, we encourage you to visit the SMART Recovery website.
IMPORTANT NOTE:
If you or someone you love is in great distress and considering self-harm, please call 911 for immediate help, or reach out to The National Suicide Prevention Hotline @800-273-8255, https://suicidepreventionlifeline.org/
We look forward to you joining the conversation!
*SMART Recovery reserves the right to not publish comments we consider outside our guidelines.*