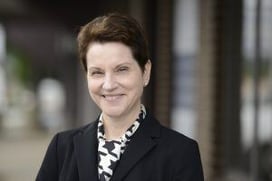 Claire Johnson Saenz has served on the SMART USA, UK and International boards, and her legal advice has guided all three boards toward determinations that positively affect SMART Recovery and its participants.
Take, for example, her insights on mandatory use of faith-based 12-step programs. Saenz used the case of a California atheist whose parole was revoked because he refused to attend a recovery program that insisted he acknowledge a higher power. A 2013 ruling by the 9th Circuit District Court of Appeals declared that the person's constitutional rights had been violated, and eventually the decision to revoke his parole was reversed.
"This case is one of many in recent years in which courts have ruled that it is a violation of the First Amendment to the U.S. Constitution for a state to require someone to participate in a religion-based drug or alcohol treatment program as a condition of parole," Saenz wrote for SMART Recovery. "When it comes to recovery, there is no one-size-fits-all approach."
In a 2017 interview with Insight Publishing, Saenz commented further on the idea that recovery can and should take different forms for different people. "In a world of individuals, there will never be an approach to any physical or mental condition that will work the same way, or as well, for everyone. And yet for years, we have prescribed the exact same treatment to everyone with an addictive disorder."
Saenz also applauded two fundamental SMART Recovery tenets: the idea that the power to recover resides in the individual, and the belief that one is not in a constant state of recovery. As she noted in the Insight Publishing article, "While participants are encouraged to attend meetings for a significant time period and to become facilitators to pay it forward, we do not view recovery as being a permanent state. Instead, we achieve a new normal."
Shari Allwood, former Executive Director of SMART Recovery, shared that Claire played a major role in the growth and development of SMART Recovery as well as the creation of SMART Recovery International. "Never one to desire a spotlight or recognition, Claire was always available to assist with any legal issues and concerns. Beyond that, Claire provided valuable legal support for smaller needs throughout the years that she served SMART Recovery. If she didn't have expertise in a certain area needing counsel (i.e., trademarks/copyrights or insurance needs), she would perform research or reach out to legal colleagues who had the expertise. I always felt confident that SMART Recovery was receiving solid legal guidance from an individual who truly cared about the organization. Claire was a poised, consistent voice of reason respected by her fellow board members, and she motivated others with her team-player attitude."
Her work on the boards completed, Saenz went on to start a SMART Recovery meeting where she lives. Her natural gift for helping others was put to excellent use as a facilitator. "Claire is a bright, thoughtful, caring individual who wants to see others succeed in overcoming addictions," Allwood says. "She's down-to-earth, always willing to dive into help with projects, and has donated many, many, many pro-bono hours to SMART USA, UK and International. I'm delighted to see Claire recognized for dedication to SMART Recovery."
Claire, thank you for your unwavering dedication and tremendous contributions to SMART Recovery USA, UK and International!
---
About the 25 in 25 Volunteer Recognition Program
The heart of SMART's 25th Anniversary celebration in 2019 is the story of an extraordinary community of volunteers who have built a worldwide organization devoted to supporting individuals recovering from addiction and their family members and friends. These volunteers include addiction scientists and treatment professionals who designed a self-empowering 4-Point Program® and joined people with the experience of recovery and trained them to lead mutual support group meetings.
Together they have created and refined a peer-professional mutual-support group model that combines the best science for treating addiction with the lived experience of recovering from addiction – the world's largest and only community of this kind with more than 3,000 group meetings in 23 countries. Each year, participants in these groups help each other recover at more than 150,000 meetings, in-person and online, led by volunteers trained how to use the SMART program.
Click here to learn more about the program and to see all who have been recognized.