Online SMART Event: The Art of Living
An Exploration of Life Choices in Addiction Recovery
With Ed Garcia, CSW
Thursday, April 12, 2012, 8pm edt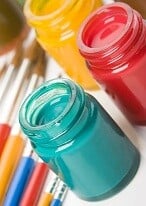 Living life is an art. Our life experiences are both bright and dark, much like the colors in a painting. Though the primary colors may be the same, the manner in which we blend them determines how richly we experience our life.
We are the artists. We are the ones who choose the colors, we are the ones who mix them, and we are the ones who decide what to paint. Although our life experiences are different, they all contain the three primary colors: red for passion, yellow for brightness, and blue for darkness.
Regardless of all the differences we have as individuals, there are some common universal experiences we all encounter as we go through life. The only difference is in the way we perceive these experiences. It is in these different perceptions that we can learn from one another and become our own and each other's greatest teachers.
SMART Recovery is pleased to announce that beginning on April 12 at 8:00p.m. EDT, we will present the first in a new ongoing series of informal gatherings: The Art of Living. In this series, popular speaker Ed Garcia will present a series of quotes and related questions.
He will choose thought-provoking quotes that he finds classic and timeless, and then he will help focus conversation by asking some precisely-phrased questions that will give participants an opportunity to:
::: consider what is truly important to them,
::: identify how they view the world,
::: engage in an open exploration of thought and ideas, and
::: reinforce the REBT (Rational Emotive Behavior Therapy) ideas underlying his own approach to such questions.
In his own words: "I am a strong believer that learning is best achieved not by someone giving us answers, but rather by motivating us to think. In this series, for each event, I will present a quote that will stimulate your thinking. I will ask some questions about the quote, and through your responses, ideas will emerge that I hope each of us can use to paint our very life canvas brighter and with more passion."
The series will be hosted in The SMART Room – one of SMART Recovery's online voice chat rooms, and will begin on April 12 at 8:00 p.m. EDT for one hour. We plan to vary the time of future events so that we may reach as many people in our international community as possible.

To Attend: You must be a registered member of SMART Recovery Online (there is no charge to register). Please register in advance. Once registered, you will be taken to the SMART Message Boards. Select "SMART Recovery Chat and Meeting Rooms" – the long blue bar near the top left of the page. Then click on the menu item "SMART Recovery Chat and Meeting Rooms." From there, select The SMART Room. (Note: A microphone is not required. You can listen and there is space in which to type questions and comments.)
SMART Recovery is very pleased to be able to continue to offer these Special Events on topics of interest as a public service. Please share with your friends, family and colleagues.
Among many achievements, Mr. Garcia has an extensive and diversified background in the field of human behavior. He holds both an undergraduate and graduate degree from New York University. His post graduate work was conducted at the Institute for Advanced Study in Rational Emotive Therapy, where he worked extensively with Dr. Albert Ellis, one of the nation's top Cognitive/Behavior Psychologists, whose work is represented in the SMART Recovery program. Upon completion of his four year internship, Mr. Garcia became a Fellow of the Institute and was appointed Co-Director of Clinical Training there, a position he held for five years until his move to Atlanta, GA, where he currently resides.
Specific to this presentation, Mr. Garcia developed and appeared in a five hour TV presentation for WPBS entitled Developing Emotional Muscle, and he writes a weekly column for the Buckhead Atlanta newspaper, with the same title. During 2011, Mr. Garcia hosted a short series of workshops on The Anatomy of Emotions at SMART Recovery® Online. These webinars have been highly popular within and beyond the SMART community and beyond and are available in podcast form ).