Volunteer Appreciation
Do you want to be a part of the solution to the growing epidemic of addiction?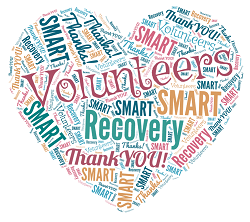 Do you want to help others overcome addiction and go on to live fulfilling and meaningful lives? Train to become a SMART Recovery volunteer!
April is Volunteer Month
Volunteers are the heart of SMART Recovery, working together to empower people to break free from addiction every day. The gift of their time, skill, knowledge and compassion is invaluable. Without volunteers, SMART Recovery would not exist.

Training Scholarships Available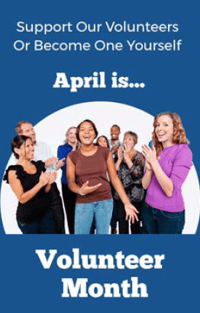 Unfortunately, SMART meetings may be in limited supply in your area.
You can change that by becoming a SMART Recovery volunteer!
Addiction is a wide-ranging problem that does not discriminate. Approximately one in every 10 Americans over the age of 12 has an addiction of some sort. They are our moms, dads, sisters, brothers, friends, and many never get the treatment or support they need.
Recovering from addiction can be quite difficult and research shows that many people benefit from peer support to make it happen. A key for each person is to find a support program that meets their unique needs.
SMART Recovery is "science-based", built on a foundation of tools based on cognitive behavioral therapy methods. Our meetings are self-empowering and solution-focused. For many people, our approach meets their needs in ways that other programs do not.
Our training program ensures our volunteers have the knowledge and tools that they need to confidently lead weekly support group meetings.
Get Involved! Make a Difference!
Volunteer: Share in the rewarding experience of volunteering by joining our dedicated team of trained volunteers. We provide training and support. [ More Information ]
Scholarships for training are available
All SMART facilitators and online volunteers are required to become thoroughly familiar with the SMART 4-Point Program® by participating in our Online Facilitator Training Program. Volunteer Training Scholarships are available during April to cover the cost of the training for those who need financial assistance.
Support the Volunteer Scholarship Program
During the month of April, you can help someone become a trained volunteer by making a gift to the Volunteer Training Scholarship Fund. Donations of any amount are helpful and welcome — and thanks to generous matching challenges this year, you can double your impact!
The rewards of helping others make a difference in their lives are many and long-lasting. We invite you to partner with us to grow SMART, either as a volunteer, a donor, or both. You'll be glad you did! More Information
Together, we can make more meetings available to those wishing to make positive changes in their lives, and the lives of their loved ones.
Thank you for your support during Volunteer Month.