Looking for an efficient way to train your staff and offer SMART meetings to your clients? SMART Recovery has long achieved success with our online "Distance Facilitator Training" program. The 30 hour, self-paced, self-study training has much to offer individuals with busy lives.
That said, several years ago, more organizations approached SMART desiring to host on-site training programs for the staff at their treatment facilities, so we decided to take our distance facilitator training "on the road"! The result is a much faster, full (very full) two-day training program delivered at the treatment facility or a nearby venue.
"I'm excited to see where things go with the creation of SMART meetings in our facilities!"
Our most recent on-site training event took place on December 29th and 30th at Recovery Ways in Murray, Utah. The facilitator training was led by former SMART Recovery board member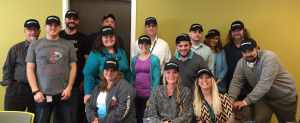 (and educator) Lorie Hammerstrom.
Nate Van Dyke, Substance Use Disorder Counselor of Recovery Ways shared "everyone agrees that the training was a fun and educational experience. Most of all, thank you for offering those searching for a path to healing from addiction an alternative option. I'm excited to see where things go with the creation of SMART meetings in our facilities!"
Following the training, 100% of the 15 attendees indicated they felt confident in starting a SMART Recovery meeting, and all felt highly skilled in the SMART program and tools.
One attendee's evaluation form read "great instructor, great materials, great resources!" Another commented "I feel confident I can help others use the tools of the program. I liked learning about each of the 4-Points and using real life examples to practice them. Plus, the SMART Handbooks are so helpful!" And another trainee stated "I would recommend this training to anyone who is looking to help people in finding lasting recovery."
If your treatment facility would like to provide SMART Recovery meetings for your clients or community, and if you have a number of staff members to be trained, contact Christi Farmer at the SMART Central Office via phone; 440/951-5357 for more information about our on-site training.