Access addiction recovery support from home
-Dolores Cloward, SMART Recovery® Volunteer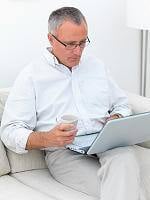 If you are looking for help with addiction recovery, whether it's addiction to substances or addiction to behaviors, SMART Recovery Online is a wonderful place to start. Our program is science-based, incorporating scientific best practices in psychology. Here, you will find a supportive online community (message board forums, 24/7 chat and daily online meetings). We also offer practical tools to help you think your way through what you want for your life and how to go about achieving it. And, like other addiction recovery programs, SMART Recovery Online is free and accessible from home. It may be the only resource you need!

What is SMART Recovery?
Now in its third decade, SMART Recovery is a non-profit organization that offers tools for addiction recovery based on scientific research. In addition to over 1,600 local meetings world-wide, our website is home to an international recovery community which includes free, self-empowering, science-based mutual self-help, peer support in our online forums and meetings.
The SMART Recovery 4-Point Program® offers tools and techniques for:
1. Building and maintaining motivation to address addiction related issues

2. Coping with urges

3. Managing thoughts, feelings and behaviors

4. Living a balanced life

How do I get involved in the SMART Online Community?
Inform yourself – From our main web page, you can learn more by watching an introductory video, and feel free to browse around the website! You will find links to tools, articles, local meetings, online meetings, podcasts, and last but not least, our international online recovery community.
Join the Online Community – To join our online community, just click on Online Community from the menu at the top of the website pages, and follow the directions to register. Once registered, you will be taken to the Community Message Board where you will find a number of different forums. If you introduce yourself in the Welcome area, volunteers and other individuals participating on the site can easily find you and will respond with lots of useful information, links, and welcoming words to help you get started.
Attend online meetings – If you would like to attend online meetings, use the link to "SMART Chat and Online Meetings" at the top of any page on the Message Board to access the meeting schedule and the meeting rooms. Meeting rooms are opened shortly before each meeting starts and are not accessible at other times. Our meetings are lively and informative and run by trained facilitators, offering focused practice with helpful tools as well as loads of room for discussion and feedback. We think this is peer support at its best – interactive, yet guided. Verification of meeting attendance is provided upon request.
Chat room – If you like the idea of hanging out and chatting with others who all are working toward the same goal – building their best lives – join us in the 24/7 SMART Chat Room to make some casual friends, find camaraderie, and enjoy the benefits of readily available caring support. The Chat Room is accessed via the Message Board following the instructions above for accessing online meetings.
SMART tools – There are many other resources available, but let's not forget the most important one! SMART Tools can be found by clicking the Resources tab at the top of every message board screen. These tools form the core of what SMART Recovery offers for individuals who desire to help themselves to work on addiction recovery.
In sum, SMART Online offers a full complement of tools, venues and friendly, supportive people, all in one place. It is entirely your choice how you would like to put together these and other resources to create a solid recovery directly tailored for you. We hope you will join us and "Discover the Power of Choice"TM.
---
Dolores was awarded the Joseph Gerstein Award for Exemplary Service to SMART Recovery in 2013. She is one of the many passionate volunteers that make it possible for SMART Recovery to assist individuals seeking abstinence from addictive behaviors. The approach used by SMART is science-based using non-confrontational, motivational, behavioral and cognitive methods.