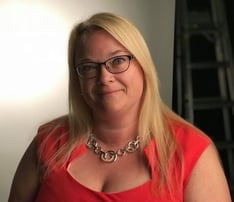 Growing up, Betty Jacobs knew her family and the community would not be open and accepting of her sexual orientation, so she hid her true identity. She followed the "normal" route and got married and had children because being a mom was something she always wanted. But there was more to Betty that people needed to know and she was finally ready to tell.
Betty has used her story as motivation to change the game for the LGBTQ community in Lake County, Ohio. She earned a bachelor's degree in social work from Youngtown State University, and taking the experience she received from her internship at the LGBT Community Center Greater Cleveland, she founded LGBTQ+ Allies Lake County.
In just a year, the non-profit organization has grown and accomplished a great deal. Betty offers Safe Space training to teach businesses and organizations to be welcoming to the LGBTQ community. The SMART Recovery National Office Team will be taking this training in August.
With the climate in the country forcing people to look at things differently, Betty says "it's easier to have the hard conversations lately." This is about mutual respect and breaking down barriers. No one wants to live in fear. Betty and the LGBTQ+ Allies Lake County organization are working to end fear and create allies in the community where everyone is welcome.