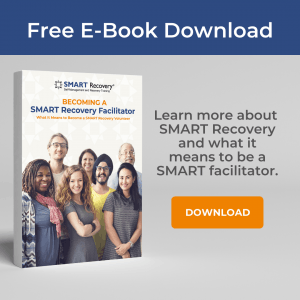 So, you are considering becoming a SMART Recovery facilitator. We thank you in advance for your commitment, time, and dedication to the SMART Recovery® organization and to the participants with whom you'll come in contact.
Being a SMART facilitator is an important and rewarding volunteer position. By becoming a SMART facilitator, you support:
Providing free face-to-face and online mutual-support meetings
Providing forums for learning about and discussing addictive behaviors
Advocating for choice in help for recovery from addictive behaviors
SMART is a science-based program. It's built upon well-established scientific approaches that use techniques from Cognitive Behavior Therapy (CBT), Rational Emotive Behavior Therapy (REBT), and Motivational Enhancement Therapy (MET).
The techniques help people manage behavioral problems and achieve successful change. As a facilitator, you'll help participants learn to apply SMART's tools to their addictive behavior as they build on the 4-Point Program® and move toward living a balanced life.
To help you decide whether the SMART approach would be a good fit for your volunteer efforts, we encourage you to download the first chapter of our Facilitator's manual: Becoming a SMART Facilitator.
CLICK HERE TO DOWNLOAD THIS E-BOOK