Northfield Bank Foundation supports community self-empowerment
by Anne DeMarzo, Staten Island Family & Friends Facilitator
Who is more sure of what the public wants than an advertising sales manager? This past October, as a SMART Recovery volunteer at a local health fair, I was sought out specifically. I knew this because when I returned to the table I was sharing with a broad coalition group. I was told that someone was looking for me and had left me her business card. I later spoke to the woman who pitched her professional opinion that our community was looking for recovery options. She asked if I was interested in running a campaign to publicize SMART Recovery on a New York City transportation mode that carries 21 million passengers annually? I found her brilliant for recognizing people's readiness for real solutions but confessed I didn't have anywhere near the kind of advertising funds that a campaign like that must require. Her "Plan B" soon became my "Plan A". We talked a bit more, and when we parted I had a solid lead on where to look for a private grant.
Nice idea, but I'm merely a SMART volunteer. Is my requesting grant money even allowed? After checking with the Central Office, Shari Allwood, SMART's former executive director who has since retired, assured me there was no reason I couldn't apply. The first requirement was to call this particular foundation and get approval to submit a preliminary grant request. The phone conversation went well, and the executive director gave me the go ahead. Naturally, the application required certain information but accounting for the requested funds was also required – in detail. For that information, I contacted the ad company's sales office and was stunned by the estimated cost! The rate for a 25- framed poster board package (size 21×22) program, based on 24 weeks would be $18,474 plus $595 printing. Ugh! Asking for money does not come naturally to me, but I'm learning that in the world of grants and advertising, this dollar amount is not all that much. I boldly submitted the paper work and was swiftly turned down. The Foundation's board felt that the greatest benefactor of those funds would be the advertiser. However, the executive director was impressed by SMART Recovery and was genuinely interested in supporting a science-based recovery support option for our community. She encouraged me to rethink my program.
As a recovery advocate for the past two years, I've learned there are dozens of stakeholders vying to be noticed. I thought, "if I could just get SMART Recovery into the people's hands, they could decide on its value for themselves". I also took a little time to explore the Foundation's website and noticed that although the number of grants awarded over the years had increased significantly, the individual award amounts remained at about $5,000. Thinking backward, I resubmitted the program as "Confront addiction in our communities using SMART Recovery" – Thank you, Shari, for that strong and truly noble title! What was ultimately proposed was funding for 160 SMART Recovery Handbooks to be distributed to our four Community Resource Centers, 160 Family & Friends Handbooks for distribution at Narcan training events, and 25 facilitator training scholarships. On May 30th, with my feet levitated a few millimeters off the ground, I accepted a check from Northfield Bank Foundation for $4,750, payable to Alcohol & Drug Abuse Self-Help Network, Inc. d.b.a. SMART Recovery. Thank you, Northfield Bank, for recognizing SMART Recovery as a worthy recipient of your select philanthropic awards!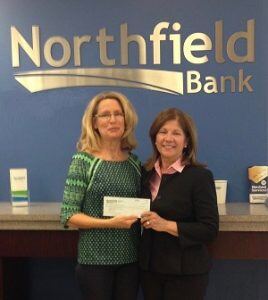 Diane Senerchia, Executive Director for Northfield Bank Foundation (right),
presents grant check to Anne DeMarzo, SMART volunteer.