Guest blog by Stefan Neff, Regional Coordinator British Columbia, Canada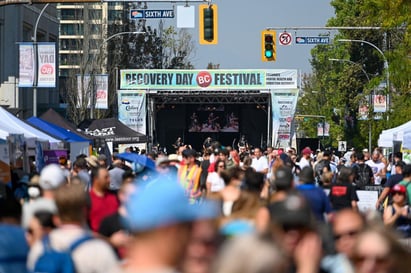 As the regional coordinator for SMART in British Columbia, Canada, my mission is to help as many individuals seeking self-empowerment and evidence-based tools as a process to help themselves. When I became the coordinator a few years back, I ventured out as a newbie, eyes wide open, finding as many resources as I could to help grow SMART Recovery in the community that I love so much.
In September 2019, I found out about the Recovery Day BC event and I wandered myself down to see what the fuss was all about. Well, there were people lining the street all celebrating their own recovery, live music playing, and kids playing and laughing in the KIDS ZONE. At that moment I said to myself, I would love to have a SMART booth proudly displayed for all to see. A few years went by and COVID happened; a lot had changed in British Columbia. We lost many in-person meetings, some facilitators retired, and many of the determined facilitators dove into the online Zoom platform.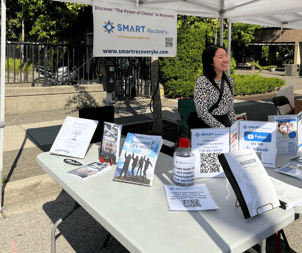 Now, 2022 is here and many things have levelled out. Meetings are going back to in-person, but this feeling never went away to have a booth at this massive event in September. What happened next was super special. I got an email from SMART Toronto Canada that the event organizer wants SMART to be a part of the 10th-anniversary Recovery Day BC event, with over 25,000 people expected to attend. Wow! What an opportunity to have a booth with a SMART banner showcasing what SMART is all about and how the program works.
I went into overdrive, searching for volunteers to help man the booth and what supplies I needed on a tiny budget. To tell you the truth, it was a little overwhelming, designing and ordering the banner, renting a popup tent, and asking volunteers to help find tables and chairs. The biggest joy was when SMART Recovery offered two training combos as raffle giveaways. I am so grateful to have two amazing volunteers who really stepped-up. One helped deliver all the heavy stuff and Bernice Lee, who is the SMART volunteer coordinator for Vancouver Coastal Health Authority, helped cover the booth.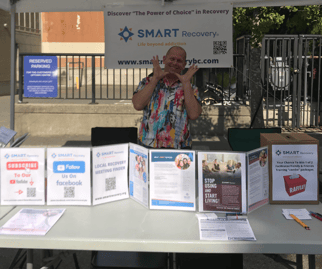 Now here's the fun and extremely heartfelt aspect of this Recovery Day BC event – people who attend the SMART meetings came up to the booth with big SMILES on their faces, hugs and hi-fives, saying how SMART saved their lives and how amazing the program is. Some participants from the three online meetings I host gave me huge hugs, their spouses thanking me for helping their loved one towards recovery. My mind was racing with so many emotions, tears of joy flowing down my face, it was very emotional for me. It gets even better, meeting treatment centers, other non-profits wanting to work with SMART or already running meetings in their facility, you name it wow, what a great opportunity to speak with so many people who want to help others help themselves.
I will be back bigger and better next year. The planning starts now!
Watch Stefan in his Facilitator Spotlight video.
---
PLEASE NOTE BEFORE YOU COMMENT:
SMART Recovery welcomes comments on our blog posts—we enjoy hearing from you! In the interest of maintaining a respectful and safe community atmosphere, we ask that you adhere to the following guidelines when making or responding to others' comments, regardless of your point of view. Thank you.
Be kind in tone and intent.
Be respectful in how you respond to opinions that are different than your own.
Be brief and limit your comment to a maximum of 500 words.
Be careful not to mention specific drug names.
Be succinct in your descriptions, graphic details are not necessary.
Be focused on the content of the blog post itself.
If you are interested in addiction recovery support, we encourage you to visit the SMART Recovery website.
IMPORTANT NOTE:
If you or someone you love is in great distress and considering self-harm, please call 911 for immediate help, or reach out to 988 Suicide & Crisis Lifeline @ 988, https://988lifeline.org/
We look forward to you joining the conversation!
*SMART Recovery reserves the right to not publish comments we consider outside our guidelines.*