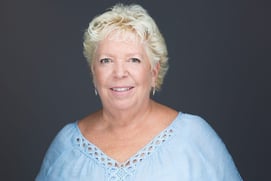 To find an avenue for overcoming alcohol misuse, Shelly Parr recalls she "Googled 'nonreligious alcohol help' and SMART was the first thing that popped up — thank goodness."
That was more than six years ago. Since then, Shelly has embraced the power of choice afforded her by SMART Recovery. "I got my old life back and a whole lot of new life," she enthuses.
For Shelly, who has hosted up to four SMART meetings a week, the social aspect of the program remains significant. "I knew that first holiday season was going to be rough. I connected with Tom Horvath, and even though I wasn't in one of his sober houses, he invited me to their holiday events to help me stay sober," she says.
"I thought we needed to do something like this with SMART, so that New Year's Day I organized a hike. There were about 30 people. It was so much fun and so awesome to be outdoors and having fun," Shelly recalls.
Since then, Shelly has been involved with bowling outings, Padres games and other activities that keep SMART people connected. She started a private Facebook group and Instagram page and helps to coordinate events.
The people involved with SMART San Diego have a bond that goes beyond an appreciation for the science-based philosophy of the program. "These are the most empathetic, most caring people I've ever met in my life," Shelly says. "When my family wasn't speaking to me, these people were there for me."
Now, Shelly enjoys a connection with fellow SMART Recovery participants that enhances her experience with the program. She gets satisfaction from uniting the SMART community through social activities. "The giving back aspect goes hand in hand with the values of SMART Recovery," she says. "Nothing makes me feel better than helping someone else."
Shelly appreciates the personal power she found to make a difference in her life and the lives of others.
"I used to tell people that SMART saved my life," she says, "but after rethinking it, I now say SMART helped me save my life."
Thank you, Shelly for keeping the SMART community connected through fun activities.
---
About the 25 in 25 Volunteer Recognition Program
SMART Recovery celebrates its extraordinary community of volunteers who have built a worldwide organization devoted to supporting individuals recovering from addiction and their family members and friends. These volunteers include addiction scientists and treatment professionals who designed a self-empowering 4-Point Program® and joined people with the experience of recovery and trained them to lead mutual support group meetings.
Together they have created and refined a peer-professional mutual-support group model that combines the best science for treating addiction with the lived experience of recovering from addiction – the world's largest and only community of this kind with thousands of group meetings around the world. Each year, participants in these groups help each other recover in-person and online and online meetings led by volunteers trained how to use the SMART program.
Click here to learn more about the program and to see all who have been recognized.