Throughout SMART's 25th Anniversary year, culminating in our National Conference September 20 – 22 in Itasca, Illinois, we will honor volunteers representing many types of individual service.
——-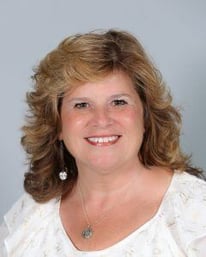 Lorie H. has been instrumental in sharing the SMART Recovery 4-Point Program® with groups of addiction treatment professionals across the country through live training sessions.
Many attendees of past SMART Conferences will fondly remember a certain volunteer wearing a suit, tie and glued-on Alex Trebek-mustache, leading a fun and instructive round of "SMART Jeopardy." As her glamorous, Vanna White sidekick (aka Gretchen Clark aka "Kalar" in SROL) said about her personal stage fright, "I was scared, but she was able to keep me calm."
That energetic and entertaining host was Lorie H. (aka "Hammer" in SROL) – an individual who has held many roles with SMART Recovery over the last 14 years. Recently retired from 32 years of public school teaching, she has taken to communicating the 4-Point Program® and tools with energy and clarity across the country with live training sessions for groups of addiction treatment professionals.
Over 15 years ago, she championed the development of the first facilitator distance-training program using internet chat rooms as classrooms, a relatively new idea at the time. Now, as one of our lead trainers on our On-Site Training team, she has been able to travel and bring that communication to wide audiences. As part of this effort, Lorie was instrumental in developing our InsideOut: A SMART Recovery Correctional Program® curriculum, which is taught as one of our On-Site Training options.
"Working with Lorie is always professional and enjoyable," said SMART Recovery Assistant Executive Director Christi Alicea. "She has always completed projects very quickly and accurately, and with a hysterical sense of humor."
Hammer, who is from outside Boston, Mass., first got involved in SMART Recovery in 2005 when she began attending meetings in the SMART Online Community. "I loved that it made sense," said Lorie about the SMART Recovery program. "The CBT/REBT tools were such a breath of fresh air for me. I had always struggled with low self-worth. The tools really helped me change my view of myself."
The camaraderie of the online community was a big driver in Lorie's decision to volunteer her time with SMART Recovery. "I love helping people. It is such a reward to see other people have 'aha moments' on their journey."
In addition to her great contributions in volunteering and training, she has served on the SMART Board of Directors, for many years as an officer (Secretary).
When asked how she remembers and would describe Hammer, Shari Allwood, former Executive Director of SMART Recovery, said she could sum it up in two words – "can-do". "Anything we ever asked Hammer to do was done in short order and was always done exceptionally well."
Shari continued, "As a teacher, Hammer has a gift of being an amazing communicator – she could relate to those we serve, and she could communicate the 4-Point Program® and tools without pause and in a simple and easy-to-understand fashion. I often wished we could clone Hammer and her many gifts. Without her efforts, SMART wouldn't be where we are today."
Where Hammer will take SMART Recovery next is wide open. Some hints might be available in some of her other titles, such Solar System Ambassador for the Jet Propulsion Laboratory, Space Camp Ambassador and Space Educators Exploration Crew.
"It's an honor to be recognized for having played a role in this amazing organization," said Lorie. "It has been so much fun to watch the incredible growth over the 15 years that I have been with the organization. Happy 25th Anniversary SMART Recovery!"
Thanks so much for your commitment, contributions and laughs, Hammer! We are so lucky to have individuals like you on our team!
---
April is Volunteer Month at SMART Recovery
SMART is a volunteer organization of individuals who are passionate about helping others. Through mutual support meetings, our volunteers provide a non-judgmental, supportive environment where participants learn skills for lasting change. We set aside the month of April to honor all of our volunteers for their steadfast efforts to help so many and to encourage others to volunteer as well.
Learn how you can be a part of the solution to the epidemic of addiction.
---
About the 25 in 25 Volunteer Recognition Program
The heart of SMART's 25th Anniversary celebration in 2019 is the story of an extraordinary community of volunteers who have built a worldwide organization devoted to supporting individuals recovering from addiction and their family members and friends. These volunteers include addiction scientists and treatment professionals who designed a self-empowering 4-Point Program® and joined people with the experience of recovery and trained them to lead mutual support group meetings.
Together they have created and refined a peer-professional mutual-support group model that combines the best science for treating addiction with the lived experience of recovering from addiction – the world's largest and only community of this kind with more than 3,000 group meetings in 23 countries. Each year, participants in these groups help each other recover at more than 150,000 meetings, in-person and online, led by volunteers trained how to use the SMART program.
Throughout SMART's 25th Anniversary year, culminating in our National Conference September 20 – 22 in Itasca, Illinois, we will honor volunteers representing many types of individual service.
Click here to nominate a deserving individual.
Click here to learn more about the program and to see all who have been recognized.
---
About SMART Recovery
Founded in 1994, SMART (Self-Management and Recovery Training) uses science-based techniques that have proven to be effective in helping people recover from addiction problems involving any substance or behavior, including such things as alcohol, drugs, gambling, over-eating, shopping and internet use.
Each week, many thousands of people discuss recovery progress and challenges at more than 3,000 in-person meetings each week in 23 countries, daily online meetings and 24/7/365 internet message board forums and chat rooms.
Participants use SMART to assume responsibility for their own recovery and become empowered using its 4-Point Program®: building motivation; coping with urges; managing thoughts, feelings and behaviors; and living a balanced life.
For more information, please visit www.smartrecovery.org.