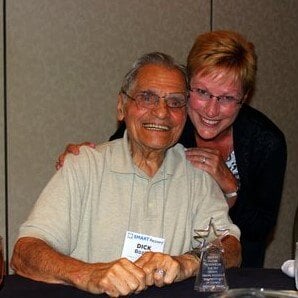 An internist by profession, Dr. Richard Bozian has dedicated 25 years to the science of healing addiction using SMART Recovery tools. Through his work with SMART Recovery in the Cincinnati area and as an ambassador for the program in a variety of capacities, the centenarian exemplifies what commitment to the recovery process is all about.
Dr. Richard Bozian recently celebrated his 100th birthday. As he enters his second century of life, this SMART Recovery superhero has many successes to reflect on. Although he stepped down as Regional Coordinator of SMART Recovery for the Cincinnati region last year, Dr. Bozian remains strongly connected to the organization.
Dr. Bozian moved from Rational Recovery to SMART Recovery in 1994 as the latter was breaking away to form its own recovery program, and he quickly immersed himself in a variety of volunteer opportunities. "He was a board member, a facilitator and a Regional Coordinator," says William Stearns, who nominated Dr. Bozian to be recognized. "He knows everybody. Dick has a great deal of knowledge about the program, and he makes people want to come back."
In 2015, Dr. Bozian received the Joe Gerstein Special Award for Exemplary Service to SMART Recovery. Named for SMART Recovery's co-founder Joe Gerstein, the award was established in 2012 to recognize SMART Recovery volunteers who have made long-term contributions to the organization while championing significant new initiatives. Like the award's namesake, Dr. Bozian possesses a tireless commitment to the organization even in his advanced years.
Stearns relates that once, when Joe Gerstein could not attend a seminar in South America, Dr. Bozian gladly went in his place. His dedication to grow the Cincinnati region is matched by his desire to serve as a SMART Recovery ambassador on a broader scale.
Dr. Bozian's insights have provided clarity and purpose for those in recovery and those helping them along the way. In a piece for SMART Recovery titled "Dealing With Depressed Thoughts," Dr. Bozian gets to the heart of the underlying factors that lead to depression, and informs the reader how SMART Recovery's cognitive behavioral approach offers positive results for addiction as well as for depression. "The fostering of resilience is the key to recovery from depression," he writes.
"Resilience is a trait that can be learned with practice and nurturing relationships. One learns to focus on one's positive attributes and avoid the negativity of thought and behavior impeding recovery."
Stearns first met Dr. Bozian in 2011 at a SMART Recovery meeting in Cincinnati. The two have remained connected, as do most people who cross paths with Dr. Bozian's enigmatic personality. His work with the organization has had far-reaching effects. "Dick is deserving of this recognition because of his continued involvement with SMART Recovery since the beginning," Stearns concludes.
We thank Dr. Bozian for his never-ending dedication to the
SMART Recovery community. He is our superhero!
---
About the 25 in 25 Volunteer Recognition Program
SMART Recovery celebrates its extraordinary community of volunteers who have built a worldwide organization devoted to supporting individuals recovering from addiction and their family members and friends. These volunteers include addiction scientists and treatment professionals who designed a self-empowering 4-Point Program® and joined people with the experience of recovery and trained them to lead mutual support group meetings.
Together they have created and refined a peer-professional mutual-support group model that combines the best science for treating addiction with the lived experience of recovering from addiction – the world's largest and only community of this kind with thousands of group meetings around the world. Each year, participants in these groups help each other recover in-person and online and online meetings led by volunteers trained how to use the SMART program.
Click here to learn more about the program and to see all who have been recognized.