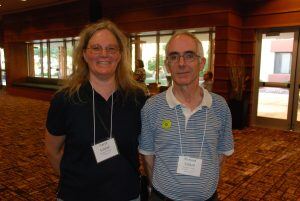 Carol and Richard Siddall learned about SMART Recovery when they met Joe Gerstein, MD, FACP, at an AHA conference, but it was another 10 years before they got involved. Once they did, the couple was all in. Invited by a friend to take SMART's Facilitator training and bring SMART Recovery to Connecticut, the Siddalls were at first disappointed when they couldn't get meetings started in their area due to lack of interest from local hospitals. But two meetings had started around New Haven, and the Siddalls traveled an hour one Saturday morning to sit in on a meeting. They substituted for the facilitator from time to time and eventually took over the meetings, moving to a location closer to them to hold meetings twice a week.
When the local VA hospital learned about the Saturday meetings, they began to bring patients to them. Eventually, the Siddalls helped members of the VA set up their own meetings, creating a vital opportunity for the community the VA serves.
The Siddalls assist facilitators whenever possible. Those in Connecticut can take advantage of the website the Siddalls created especially for them: www.smartrecoveryct.org. Facilitators can use the site as a resource and can email or call the Siddalls with any questions.
The two have given talks on SMART Recovery to several groups in Connecticut to spread the word about the organization and to recruit more facilitators. They are also frequent attendees of SMART Meeting Management (calls that happen twice-a-week for SMART volunteers), which they say is a powerful tool for improving their facilitating.
At Dr. Gerstein's request, Richard rounded up volunteers to travel to Washington to meet with congressional representatives to encourage grant funding through The Substance Abuse and Mental Health Services Administration (SAMHSA), Center for Substance Abuse Treatment (CSAT), and Center for Substance Abuse Prevention (CSAP). Thanks to the CROSS Grant through the state of Connecticut, the first Family & Friends meeting began in Hamden, Connecticut.
Carol and Richard possess an enthusiasm for SMART Recovery that Dr. Gerstein considers infectious. "It takes dedicated people to do this, and obviously they're very good at what they do," he says. "People get engaged. The Siddalls encourage them to take the facilitator training, and they help them set up."
Perhaps the couple's greatest feat came when Bhang Soo-Young, a professor from South Korea on sabbatical at Yale University, attended a meeting and wanted help to set up a SMART Recovery program in her home country. "She became a regular at our Saturday morning and Wednesday night meetings," Carol says.
Eventually, Professor Soo-Young brought additional professors from South Korea. "They spent a year translating the SMART Recovery handbook into Korean," Dr. Gerstein says. "The first SMART Recovery meeting in South Korea took place in August 2019 in Seoul."
Who would have thought that subbing for a few meetings in New Haven would lead to the spread of SMART Recovery around Connecticut and into another country? Anyone who knows the Siddalls probably did. "These tenacious SMART Recovery facilitators certainly deserve recognition," says Dr. Gerstein.
We sincerely thank the Siddalls for having such a meaningful impact on SMART Recovery in their local community and around the world!