Annual Conference Recap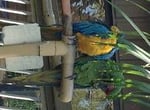 The 2013 SMART Annual Conference was held in San Diego this year, at the beautiful Humphrey's Half Moon Inn. The conference was well attended with many states and many countries represented: Australia, Canada, Denmark, Great Britain, Scotland and the USA. Attendees included members of the Board of Directors — President Tom Horvath, Elaine Appel, Patrick Garnett, Joe Gerstein, Lorie Hammerstrom, Brett Saarela, Claire Saenz, and Shari Allwood, Executive Director.
Day 1:
Many attendees took advantage of the planned tour of the San Diego area in the afternoon. The official kick-off of the conference began in the evening with a pleasant light dinner, and the hysterically funny SMART Jeopardy game that has become a tradition. Gameplay was spirited and lively.
Day 2:
The following day included a packed schedule of presentations and discussions on recent research findings, mindfulness, regional and international SMART Recovery developments and tool updates. The afternoon was concluded with an address from Tom Horvath, President of SMART Recovery on future growth plans.
The highlight of the evening was a fabulous dinner provided by the Aton Center in San Diego. Conference attendees enjoyed socializing over appetizers on the deck overlooking the marina at the San Diego Bay Club, followed by dinner and the 2nd Annual SMART Recovery Community Awards Recognition Ceremony.
The evening ended with a brief award ceremony in which the following volunteers were recognized:
2013 Volunteer of the Year:Jim Brastaad
2013 Volunteer of the Year:Jill O'Neil
2013 Leadership Award: Darren Ripley
Joseph Gerstein Award for Exemplary Service: Long-term volunteer Dee Cloward was awarded the The Joseph Gerstein Award for Exemplary Service to SMART Recovery. This award was created in 2012 in honor of SMART Recovery's Founding President, Dr. Joe Gerstein.
Day 3:
The final day of the conference started with an engaging and thought provoking presentation from Dr. David Saenz on Locus of Control and Empowerment, followed by facilitator presentations and a round table of questions and answers to a panel of Master Facilitators.
The was a valuable opportunity for SMARTies from all over the world to touch base in person to celebrate SMART, talk about the future and make new friends.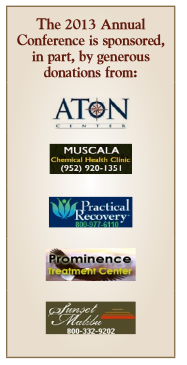 Said one attendee: "I didn't know what to expect, but I was truly impressed by the quality and "meatiness" of the presentations and the friendliness, warmth and devotion of all the attendees I met. It was great to share and get the perspective of other SMART facilitators and the founders of SMART, which gave me a boost in enthusiasm and pride for what we do."
Thank you
We appreciate the efforts of all who attended the 2013 conference and are already looking forward to the 2014 Conference.
We are grateful to our sponsors: Aton Center, Muscala Chemical Health Clinic, Practical Recovery, Prominence Treatment and Sunset Malibu, who made this conference possible.
---